How to Build a Grocery Stockpile
Do you use coupons, avoid eating out, turn off lights in rooms that are not occupied? It can be difficult to save money when the money saving tasks seem like work.
What if there was a way to significantly reduce your grocery bill without much effort? Would you be interested? The number one way that we save money on groceries is by stockpiling.
What is stockpiling?
Stockpiling is when you store large quantities of certain items to use as you need them. In this case, we are talking about groceries. Saving money by stockpiling groceries is very easy. You simply stock up on items that are on sale to avoid paying full price down the line.
Benefits of Stockpiling
You will save money by stocking up on items when they are on sale, instead of purchasing one or two items at a time when they are full price, just because you need them.
Last minute grocery store trips will be a thing of the past. When you have a grocery stockpile, you don't need to run to the store to grab a much needed dinner item. Just go to your stockpile and pick one up for "free".
When you are short on cash one month, you can create an "eat from the pantry" menu, using items that you already have on hand in your stockpile.
You can help others in need. If you use coupons, it's often that you will be able to stockpile things at a very deep discount (sometimes you will even be able to get things for free). Donate extra stockpile items to other families that need help with their grocery bill.
How to start stockpiling
My best advice when it comes to starting a grocery stockpile, is to start small. Please don't compare your shopping habits or your stockpile to anyone else – this may end up leaving you feeling discouraged and not as "up to par" as someone who has been doing it longer than you.
Take your time. A stockpile does not magically appear over night. It takes months and months (or even years) to create a stockpile that will last you awhile.
Set aside a bit of money each time you go grocery shopping and stock up on sale items as you see them. Once you have stockpiled enough of each item, don't buy any more until you start getting low again.
After a few months, you will see your stockpile start to grow. After about a year, you should have a decent sized stockpile that is likely to last you for quite some time.
Get Organized
Before you start building your stockpile you need to determine some very important things.
Where are you going to store everything?
What types of items do you want to stockpile?
How long would you like your stockpile to last? 3 months? 6 months? 1 year?
How many of each particular item do you need to stockpile to last you the amount of time you want?
Bins/Baskets
The number one thing that I recommend when starting a stockpile is to use bins whenever possible.
I always recommend using bins, because they will help you to keep your smaller items contained and not falling all over your shelves.
To save money, use the bins you already have on hand. This could be a plastic bin from the dollar store that you already have, or small cardboard boxes.
Categories
Tip #2 is to have categories. These are very important when you're stockpiling.
Categories to consider:
– Health & Beauty
– Food
– Household
– Kids/Baby
– Laundry
Setting up categories is really going to help you to find things when needed, which will prevent your items from expiring before you actually find them.
Donation Station
My final tip is to have a donation station. This is just an area in your stockpile (or even another area of your home) where you keep all of the items you plan to donate.
Keep it all in one area, so that once that area is full you'll know it's time to take it to be donated.
How Much Should I Stockpile for My Family?
It's important to become familiar with what items your family uses on a daily basis. Many families go through lots of cereal, soup, pasta, tomato sauce, shampoo, toothpaste, bathroom tissue, etc.
When you open a new item, mark the date on the bottom. When the item is gone, make note of the date and you will learn how long it took you to go through it.
For example, let's say you mark a box of cereal on April 12th and on April 19th it's all gone. That means it took you 1 week to go through that box of cereal. If you want to have a 3 month supply, you will need to stockpile 12 boxes.
Pay Attention to Expiration Dates
Be careful not to overbuy, or items could quickly become expired and thrown into the trash – which is not helping you to save money. Always put new items behind older ones to ensure you are always consuming the older items before the new stuff.
Try to go through your stockpile every 6 months and make note of the expiration dates on items. If there are some items you don't think you will be able to use before they expire, consider donating them to your local food bank or shelter.
Figure Out What You Can Spend
One of the biggest mistakes you can make when starting to build your grocery stockpile is to buy too much, too fast. It can be tempting to create a huge stockpile right away, but it is extremely costly to try this approach. It takes time to build a stockpile. It took me well over a year to get my stockpile to a place where I felt comfortable.
You need to figure out how much money you can afford to spend on "stock up" items every week. You don't need much. Even $10 or $20 per week can be enough to get you a few extras of items on sale.
When you see a great sale on something you use a lot of, buy as many as you can afford (and can use before they expire).
Pay attention to the store sale cycles so you know when to expect certain items on sale. This will be when those items are at their rock bottom prices, and the best time for you to stock up.
How Much Should I Stockpile?
Most people aren't satisfied with my answer, which is "it depends", but I am being honest. It really all depends on you, your lifestyle and your family.
There are two things you want to look at when trying to figure out how much to stockpile: how many people you are stockpiling for and how long you would like your stockpile to last. For my family, there are 4 of us, and my goal is a stockpile that will last us 1-3 years (depending on the product).
Here is our "how much should I stockpile?" list:
Food
Cereal – 1 Year (24 Boxes)
Condiments (BBQ Sauce, Mustard, Ketchup, etc.) – 2 Years (24 Bottles Each)
Sugars, Honey – 3 Years (36 Each)
Pasta – 3 Years (72 Packages)
Canned Vegetables – 3 Years (72 Cans Each)
Rice – 3 Years (36 Small Bags)
Coffee – 1 Year (12 Jars)
Crackers – 6 Months (12-24 Boxes)
Granola Bars – 1 Year (24 Boxes)
Tea – 1 Year (10-12 Small, 72ct Boxes)
Juice – 1 Year (12-24 Large Bottles)
Meat (Chicken, Beef, etc.) – 1 Year (Frozen) (LOTS! About 720 Servings)
Oils – 2 Years (24-48 Small Bottles)
Household Supplies
Cleaners – 2 Years (12-36 of Each)
Facial Tissue – Indefinitely (At Least 100 Boxes at all Times)
Bathroom Tissue – Indefinitely (At least 300 Rolls at all Times)
Paper Towels – Indefinitely (At Least 50 Rolls at all Times)
Zip-top Bags – Indefinitely (At Least 50 Boxes at all Times)
Tin Foil – Indefinitely (At Least 5 Boxes at all Times)
Plastic Wrap – Indefinitely (At Least 5 Boxes at all Times)
Hand Soap – 2 Years (48 Bottles)
Dish Soap – 2 Years (48 Bottles)
Laundry Soap – 2 Years (96 Bottles)
Fabric Softener – 2 Years (24 Bottles or 700 Sheets)
Dishwasher Detergent – 2 Years (1,000 Tabs)
Health & Beauty
Medicines & Pain Relievers – 1 Year (10 Boxes of Each)
Bandages – 2 Years (10-20 Boxes)
Make-up – 1 Year (4 of Each)
Hair Products – 2 Years (48 Bottles)
Body Wash & Bar Soap – 2 Years (48 Bottles + 48 Bars)
Body Lotion – 2 Years (24 Bottles)
Toothpaste – 1 Year (48 Tubes)
Toothbrushes – 5 Years (At Least 100 at all Times)
Deodorant – 1 Year (24 Sticks)
Feminine Products – 2 Years (24 Packages)
Razors – Indefinitely (At Least 50 at all Times)
Shaving Cream – 2 Years (24 Cans)
Baby & Toddler
Diapers/Pants – 3 Years (4,500 Diapers in Various Sizes)
Baby Wipes – 3 Years (144 Tubs of 72)
Baby Lotion – 2 Years (24 Bottles)
Baby Wash – 2 Years (24 Bottles)
Where to Store Your Stockpile
If you're having a hard time coming up with a good place to store your items, consider the stockpile storage ideas below.
Basement
If you have a basement and can spare a bit of space down there, do it. Invest in some sturdy shelving units and/or storage bins or carts to keep things organized and off the floor. Don't store certain food items in your basement if it is humid.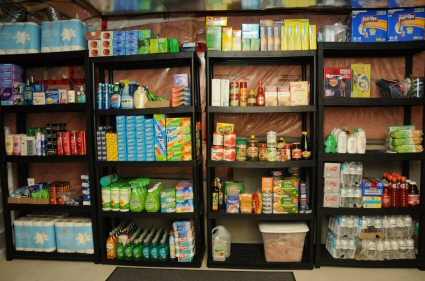 Under Your Bed
You can also store your stockpile items under your bed in some under-bed storage containers. I suggest this type of storage for things like bathroom and facial tissue. Avoid storing food under your bed, as it may go bad before you can get to it (because you don't see it).
Dressers
Do you have a dresser that's not being used? Dressers are great for more than just clothing. Try putting some of your smaller stockpile items in them.
Garage
If you have space in your garage, you can store your stockpile items here as well. Just like a basement, don't store certain food items in your garage if it is humid.
Where Items Belong
If you don't have the space to dedicate an entire area/room for your stockpile, keep your items all over the house. Store things in the places that they will be used.
Store your shampoo, body wash and toothbrushes in the bathroom. Store your bathroom and facial tissue in the hall closet. Store your food in the kitchen pantry. Store your laundry soap and fabric softener in the laundry room.
There is no "right" place for you to store your stockpile. Everyone's space limitations are different, so keep your items where they work best for you.
Just because one person keeps their stockpile in the basement, doesn't mean you need to keep yours there as well. Maybe yours would do just fine in an unused closet.
How To Stockpile Meat & Produce
It's very rare that you will come across a coupon for fresh meat or produce, so stockpiling those items seems like an expensive task – but rest assured, it is possible to stockpile these items without paying an arm and a leg.
Below I have outlined the best ways to stockpile meat & produce.
Find out your store's mark-down schedule
The next time you are at your local grocery store, ask the staff when they mark down produce and meat. It's best to ask the staff that works in the back of the store, as cashiers usually don't know this information.
Try to find out which day of the week and what time(s) they mark down those items, so you can try to swing by the store at the perfect moment to snatch up cheap meat & produce.
Remember that items that are marked down are usually cheap because they are going to expire very soon. Be sure to get those items into your freezer as soon as possible to prevent spoiling.
Purchase directly from a local farmer
I know a few people that save quite a bit of money by purchasing 1/4, 1/2 or even a full cow directly from a farmer in their area.
You can often purchase pigs and other animals as well, but each farmer is different, so check with the ones in your area to find out what they offer.
If you can't afford the purchase of a 1/4 (or more) cow on your own, consider splitting the cost with another family and then dividing up the meat.
Check out the clearance racks
Many grocery stores have a clearance rack with marked down fruits & vegetables.
They are often only bruised or have other small imperfections. They are still edible.
Invest in a chest freezer and freeze properly
Just like you probably don't have enough room to store your grocery stockpile in your kitchen cabinets, you likely will not be able to store your meat & produce stockpile in the little freezer above or below your refrigerator. That's why a chest freezer is essential.
I admit, when someone suggested the freezer idea to me 2 years ago, I thought they were crazy. Surely I didn't need that much space for frozen food. What a waste of money, space and electricity that extra freezer would be!
Well, I was wrong. One day I picked up 6 almost-free frozen pizzas from the grocery store and stuffed my freezer full. The next week, chicken breast was on sale and we were almost out – but we were almost out of space in the freezer as well. It was then that I realized that the extra freezer was actually a good idea.
I missed out on the chicken deal that week, but I also learned my lesson. After a bit of research, I picked up a freezer for our basement and it now houses lots of extra chicken, frozen pizzas and more!
My point is – if you want to save money by stockpiling meat and produce, you really need to consider getting an extra freezer. They are definitely worth it.
Remember that freezing food is not as simple as just tossing something into the freezer. The way that you prepare it for freezing is the only way to gauge how long it will last in it's frozen state.
Use freezer bags or storage containers
Get the products that are made specifically for freezer use.
I don't recommend freezing meat in the packages they come in at the store, unless you plan on thawing and consuming all of that meat in one meal. Instead, take the amount of meat you need for one meal and put it in it's own container or bag.
Information on freezing fruit & vegetables: How To Freeze Fruit and How To Freeze Vegetables.
Label everything
Mark everything that you put into the freezer with the current date and a note on what's inside.
Don't forget to check our list of things you can and cannot freeze, and how long you can freeze them for.
Although it's difficult to find coupons for fresh meat and produce, you can still save money on these items and you can certainly stockpile them.
The key is to buy low and freeze properly to guarantee yourself a healthy supply in your stockpile.
What's the difference between stockpiling and hoarding?
Stockpiling means you are buying things in advance for future use.
Hoarding means you cannot get rid of something, even if you know you will never use it.
I really do believe that hoarding and stockpiling are two HUGELY different things. I mean, have you SEEN the inside of a hoarders home? I have, and trust me – it looks nothing like my stockpile. NOT. AT. ALL.
Our stockpile is pretty massive, I'll admit it – but we will use everything. Honest! If something is nearing expiration and we don't think we will use it, I will donate it. I also give away stuff all the time to family when they come to visit.
If I can get items that we WON'T use for free, I will get those too because I can always give them away.
I'm sick to death of people comparing stockpiles to hoarding.
They are not the same thing.
It's okay to stock up on items you know your family will use. It's okay to buy 20 bottles of shampoo if you know your family will use it all up before it expires (yes, shampoo expires!). It's okay to buy 10 jars of peanut butter if you know your family will eat it all before it goes bad.
It's okay to stock up on items, in order to save money. It's not okay to buy items that you do not need (unless you plan on donating them). It's not okay to clear shelves so that other people can not get in on the same deal.
Just use some common sense when you stockpile and you'll be a-ok.
subtitle
Building a grocery stockpile is a great way to save money. By making sure you only buy what you can afford and store, and by paying attention to expiration dates, it's easy to keep your grocery bills low by stockpiling.
Remember to go slowly. Don't overwhelm yourself by trying to grow your stockpile too fast. It's easy to go overboard – don't fall into that trap.
What do You do With All of That Stuff?!
When people see my stockpile, they either make a joke about me being ready for an apocalypse, or they ask me these famous words: What do you do with all of that stuff?! Or they do both.
I'm very careful to only buy stuff for our stockpile that we can use before expiry, but sometimes, we just run out of time. If I ever notice that something is getting close to the expiration date, here's what I do:
When items are close to expiry
Make a plan to use them up – This really only works for food, and when I see something that is going to expire very soon, I make a plan to use that item before expiry. I re-adjust my menu plan to fit that item/ingredient in, and just make it work. I hate wasting food!
Give them away – If I can't use something in time, I will give it away to friends, family, neighours and local shelters and food banks. Many items, (including some foods) will last a few days to a few months past the expiration date, too. Especially things like deodorant, pasta, cereal, etc. So keep that in mind before you start throwing out "expired" items in your stockpile.
As a guideline, here's how much you should be stockpiling:

Items that can be frozen (meat, cheese, produce): 2 month supply
Non-perishables (canned goods, packaged goods): 6 month supply
Household & personal items (deodorant, cleaning supplies): 1-2 year supply
There is always going to be another sale just around the corner, so unless something is free, don't buy it if your stockpile is already full to the brim (and then donate that free item right away to prevent cluttering up your stockpile).
Do you have a grocery stockpile? How long did it take you to build it?