How to Preserve Swiss Chard
We have had great success this year with our veggie garden! So much so, that we will be doing a lot of preserving for the winter. Preserving is a great way to save money, even if you are purchasing your produce. It allows you to buy ripe produce at a discount, and/or purchase produce in bulk.
Our swiss chard has been growing very well. Our daily smoothies and salads are no longer enough, though – it's time to preserve. This method of preserving is called blanching and it works well for many greens: Kale, Collard Greens, Spinach, etc.
Here is how we preserve Swiss Chard:
How to Preserve Swiss Chard
Pick your swiss chard first thing in the morning. This is when the leaves have the most moisture in them. Preserve them as soon as possible after picking, as the moisture will begin to leave the leaves right away. You want that fresh, just-picked taste.
Clean, Clean, Clean. This step should take the longest and is very important. Wash each individual leaf under cold running water. Then soak in a pot of cold water for 20 minutes.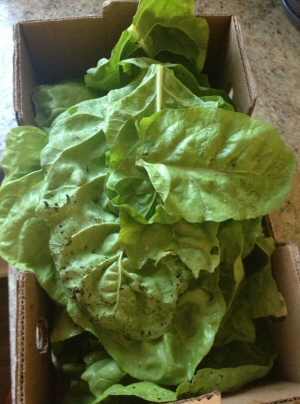 Remove from the water and chop into bite size pieces. We choose to remove the stem, but this is just personal taste. Put the wet bite sized pieces in a large pot on the stove. Don't add any water, the moisture on the leaves from soaking is all that is required.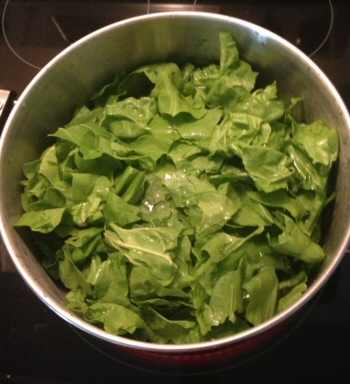 Turn, the stove on to low-medium heat. Stir. You are not cooking the greens, just wilting them. When finished, the greens will wilt to about a third their original size and turn a gorgeous bright green. This takes about 10-15 minutes.
Remove the pot from the stove and allow to come to room temperature.
Put your room temperature blanched swiss chard (or greens) into good quality zip-top freezer bags. Press all of the air from the bags. Label each bag with the name of the veggie and the date prepared.
Lay the bags flat in your freezer until frozen. After, you can stack them and arrange them in a way most convenient for you. Preserved this way, your swiss chard will keep for one year.
Preserving your greens is a great way to save money and eat well all year long. These blanched greens are delicious in winter soups, pasta dishes, stir fry dishes, and warm salads.
What do you make with swiss chard?