How to Watch Free TV Streaming Sites and Apps in Canada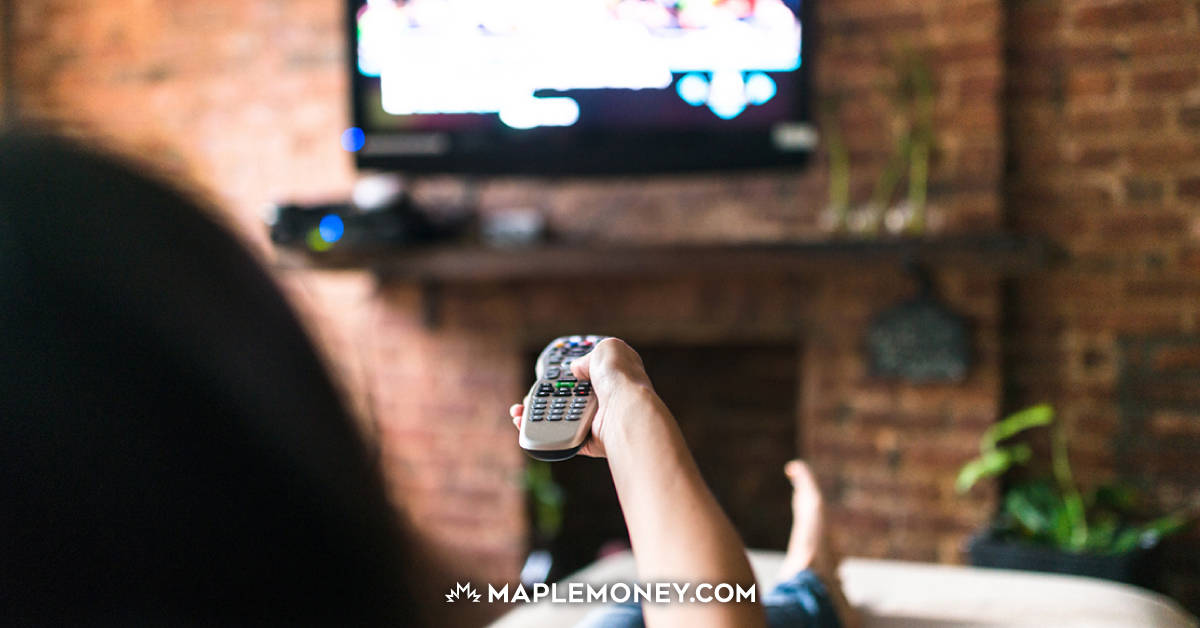 I don't know about you, but I hate having to pay for TV channels I don't watch. In fact, I remember having to pay for an extra "package" all because I wanted to watch one channel in particular.
However, all is not lost. If you're sick of paying for cable or satellite TV, there are cheaper options. You can take advantage of free streaming services and watch free TV shows and movies online.
While everyone knows about paid subscription services like Netflix or Disney+ (I cover those here, too), I decided to compile a list of 14 free streaming services, plus an additional 12 paid options.
I've listed the free streaming services first, in alphabetical order.
12 Best Free TV Streaming Services in Canada
1. BNN Bloomberg
BNN Bloomberg is a BellMedia channel that specialized in business and market news. You can stream BNN Bloomberg for free by downloading their app and signing in through your TV provider, i.e. Bell, Rogers, Shaw, Telus, etc. Otherwise, you can stream past videos of news clips, interviews, and BNN shows without signing in. You can also stream BNN Bloomberg Radio, via the website and app.
If you're looking for a convenient way to get the latest news on the economy, market updates, and stock tips, BNN is the way to go.
Pros: Real-time business and stock market news.
2. CBC Gem
CBC Gem is CBC's free TV streaming service. You can download the CBC Gem app for your iPhone, iPad or Android device. You can also access the CBC Gem using a connected device, such as Apple TV, Fire TV Stick, Chromecast, or NVIDIA Shield.
If you want to watch on your desktop computer, simply head to gem.cbc.ca.
Through CBC Gem, you can stream CBC News, as well as hundreds of television shows and documentaries. Here is a list of some of the more popular programs you can expect to see on CBC Gem: Murdoch Mysteries, Heartland, Schitt's Creek, Kim's Convenience, Dragon's Den, Coronation Street, Family Feud Canada, Workin' Moms, Bollywood, and more.
What We Like: Good mix of programming, from comedy to mysteries, to dramas to documentaries.
3. CityNews
CityNews is a division of Citytv and is one of the best live TV streaming services in Canada, delivering news 24/7 from Toronto and other major Canadian cities. You don't need to subscribe – just head to their website, and select, Watch Live, and within seconds, you'll be watching the latest news on your TV or mobile device.
What We Like: Free, 24/7 news coverage
4. CPAC
The Canada Public Affairs Channel (CPAC) offers completely free streaming of politics. When you watch CPAC, you are watching unfiltered live or pre-recorded coverage of the House of Commons and Senate meetings, press conferences, forums, etc.
There's no requirement to subscribe or become a member of CPAC. All you need to do is head to their website and begin streaming. In addition to free streaming TV, you can listen to several CPAC podcasts that cover Canadian politics.
What We Like: Free internet TV streaming featuring unfiltered political coverage.
5. CTV
Like the CBC, CTV is a longstanding Canadian television network. It offers free streaming TV programming from CTV's website or by downloading the CTV app on your iPhone or Android device. You can also download the CTV News app separately.
CTV offers a wide range of free tv channels covering news, movies, and television shows. What I like is that in addition to new programming, CTV serves up plenty of throwback programs.
Here is a list of what you can expect to see when you stream CTV for free: Grey's Anatomy, Young Sheld0n, The Good Doctor, Wipeout, The Rookie, The Jersey Shore, etc. Throwback shows include Hot In Cleveland, Corner Gas, Blossom, Unsolved Mysteries, The Littlest Hobo, Married With Children, Who's The Boss, and more.
What We Like: Good mix of new and classic television shows, free movies, and reality TV.
6. Food Network
You can stream full episodes of Food Network Canada or access the channel through your regular television services provider, such as Shaw, Bell, Rogers, or Telus. Streaming options include StackTV, the Global TV app, or Discovery+.
While you can only watch partial episodes on the free site, you can access some full episodes through your Apple TV, by accessing Global TV programs.
Well-known Food Network chefs and hosts include Anna Olsen, Bobby Flay, Danni Rose, Guy Fieri, and Duff Goldman. Popular shows include Beat Bobby Flay, Restaurant Impossible, Chopped, Top Chef Canada, Guy's Grocery Games, Banking It, and more.
7. Global TV
Owned by Corus Entertainment, Global TV is Canada's second most-watched television network, after CTV. You can stream 24/7 national news and many shows for free on the Global TV app and access other paid programming.
The Global TV app can be accessed on the following devices: iOS and Android, Roku, Fire Stick TV, Apple TV, Android TV devices, and Samsung Smart TVs.
With Freeplay, you can stream entire seasons of popular programs for free. Here are some of the shows you can expect to see: Property Brothers, Big Brother Canada, Timber Kings, Bryan Inc., Love It Or List It, You Gotta Live Here, When Calls The Heart, Ice Pilots, Backroad Truckers, and more.
What We Like: Watch or re-watch a massive selection of popular shows on Freeplay.
8. HGTV Canada
HGTV Canada is a specialty TV channel that launched in 1997. It's owned jointly by Corus Entertainment (80%) and Warner Bros. Discovery (20%). Many HGTV personalities have become household names, like Mike Holmes, Bryan Baeumler, Sarah Richardson, Scott McGillivray, and Drew and Jonathan Scott.
You can stream HGTV Canada online through Stack TV or with a Discovery+ subscription. You can stream the channel for free on your Global TV app by signing in using your TV service (Bell, Rogers, Telus, Shaw, etc.) subscription.
If you want to stream partial shows, you can head directly to HGTV Canada, where they offer plenty of free video clips of past episodes. Popular HGTV Canada programs include Bryan Inc., Brother vs. Brother, Decked Out, Farmhouse Facelift, Beachfront Bargain Hunt, and Christina on the Coast.
What We Like: Best free streaming option for home reno fans.
9. Plex
Plex is a US-based, free streaming service, offering ad-powered, free streaming capability. Plex partners with several publishers, such as Lionsgate, AMC, and Crackle, who deliver the content. There are more than 50,000 episodes available on Plex. Current shows include Hannibal, Wind River, Mud, The Fugitive, Once Upon A Time In Venice, and The Chosen.
In addition to free streaming, there is an optional, paid streaming service known as Plex Pass.
What We Like: No strings attached free streaming with thousands of titles.
10. Pluto TV
Pluto TV has one of the widest selections of movies and TV shows in Canada. The platform is 100% free, and perhaps the best part is that you don't even have to sign in to start watching. Just head to Pluto TV using your preferred app, and select the movie or show you want to watch.
Pluto TV feels much like a regular TV Channel because the programming is always streaming on a schedule. So, you may drop in 15 minutes into a show that's already playing. You don't pull up a program the same way you would watch something on Netflix or Amazon Prime.
With Pluto TV, you can stream the following shows for free: The Andy Griffith Show, Cheers, Baywatch, the Drew Barrymore Show, NCIS, Love It or List It, Forensic Files, Mission Impossible, and hundreds more.
Because the platform is supported by ads, you will have to deal with periodic commercials.
What We Like: Drop-in viewing, no signup or membership required.
11. Roku TV
Roku is a hardware digital media device like an Apple TV box. You attach it to your television, connect to the internet, and activate your device. Once connected, you can stream Roku TV for free. The following channels are free on Roku TV: The Roku Channel, YouTube, Tubi, Global TV, VMedia, Sky News, HappyKids, and more. They also offer access to paid streaming channels like Netflix, and rent-or-buy channels, like Cineplex Store.
There are no monthly fees to watch Roku TV, but the hardware devices start at $39.99, as a one-time cost.
12. Slice
A property of Corus Entertainment, Slice delivers programming that's geared toward young women. Primary topics fall into the fashion and lifestyle categories. You can stream Slice online for free through Global TV by signing in using your TV service provider subscription. You can also stream Slice on StackTV.
What We Like: Dedicated fashion and lifestyle channel.
13. VisionTV
VisionTV has been around since 1988 and provides Canadians with multi-faith and multi-cultural television programming. In addition, you can find general entertainment programming, with popular shows like Columbo, The Waltons, Heartland, Murder She Wrote, and Little House On The Prairies.
You can get Vision through most regular cable and satellite TV providers, or you can stream a limited number of shows for free, directly on their website.
What We Like: One-stop shop for faith-based, multi-cultural cultural, and classic shows.
14. YouTube
Last but not least is YouTube, the world's largest and most popular video platform. While YouTube doesn't provide access to major television programs, many independent YouTube channels have larger audiences than the biggest shows on TV.
The best part about YouTube is that there's something for everyone. Whatever your interests – sports, music, the outdoors, food, travel, home renovations, cars, fitness – you'll find it on YouTube. Also, while you can't stream live news coverage, all of the major news networks (CNN, Global, CBC, CTV, etc.) publish content on YouTube, so you can watch clips of news programming within hours of it being broadcast live.
YouTube is an ad-supported network. You can watch for free because the advertisements that play before and during the videos you watch pay for the platform. If you find the ads annoying, you can spring for YouTube Premium. It's $11.99/month and delivers an ad-free experience. There is a 3-month free trial that you can try out, and you can cancel anytime.
What We Like: Something for everyone
Best Cheap Streaming Sites In Canada
In addition to Canada's many free TV streaming services, there are several cheap streaming services to choose from also. Here is a brief rundown of the most affordable paid streaming services.
Amazon Prime Video
With a $9.99 monthly Amazon Prime subscription, you can stream thousands of movies and TV Shows with Amazon Prime. Amazon is a good alternative to Netflix and features its own binge-worthy Amazon original shows, like Bosch, The Rings of Power, and The Marvelous Mrs. Maisel.
Apple TV+
Apple TV+ is a paid subscription service that's built into the Apple TV app. In Canada, it's $8.99 monthly after a 7-day free trial period. The platform is commercial free and it features hundreds of movie and TV show titles, including its own original programming.
Crave TV
Crave is Bell Media's subscription-based streaming service. With Crave, the experience is similar to what you get with Netflix and Amazon Prime, but with different titles. Crave Mobile is $9.99/month and is ideal for people who do most of their streaming on the go. For multiple users, you can signup for Crave Total, which is $19.99/month. Discounts are available when you pay annually. You can access HBO, Showtime, and Starz movies on Crave.
DAZN
DAZN is a global sports streaming platform. In Canada, it's $24.99/month, and you can cancel anytime with 30 days' notice. With DAZN, you can access several global sports leagues, including MLB, NFL, Premier League Soccer, and more.
Discovery+
There are two pricing tiers with Discover+: $4.99 monthly, and $6.99 monthly for the ad-free version of the streaming platform. Discover offers original programming, as well as access to the following TV channels: HGTV, Food Network, TLC, Animal Planet, Discover, Animal Planet, Magnolia Network, and more.
Disney+
Disney+ is the streaming service platform of the global theme park and mass-media giant. Launched in November 2019, you can now watch more than 1,600 movies and 28,000 TV episodes on the platform. Pricing is in line with other major streaming platforms, at $11.99/month, or $119.99 annually.
FuboTV
FuboTV is a US-based streaming service that provides access to more than 50 live channels. According to Fubo, the easiest way to watch is by downloading their app and streaming it on your favourite device, i.e., Roku, Apple TV, Amazon Fire TV, Samsung, LG, etc. In Canada, FuboTV Essentials is $24.99/month. You can unlock all content with FuboTV Premium, which is $39.99 monthly.
Netflix
A company that needs no introduction, Netflix is the world's largest subscription-based online streaming platform, with more than 222 million subscribers worldwide, as of September 2022. In addition to its own original programming, Netflix offers thousands of movies and TV shows. Over the years, people have watched Netflix's prices closely, and they have risen for their standard service. Current Canadian pricing is $5.99/month for Basic, $16.49/month for Standard, and $20.99/month for a Premium subscription plan.
Shudder
Do you love a good scare? Consider subscribing to Shudder, an American video-on-demand service catering to horror, thriller, and supernatural fiction movies. At $4.99/month, it's a good value in Canada. There is a 7-day free trial period.
Sportsnet Now
Sportsnet is one of Canada's largest 24-hour sports channels, along with TSN. While the channel is available with most cable subscriptions, you can get unlimited access by subscribing to SportsNet Now. You'll receive extensive NHL, MLB, and NBA coverage, along with daily sports news. A Sportsnet Now subscription is $24.99/month. You can stream the channel on your TV, desktop computer, or mobile device.
TSN Direct
TSN, Canada's other major sports channel, also offers a paid streaming subscription service, TSN Direct, for those who don't get TSN through their cable or satellite provider. It's slightly cheaper than Sportsnet Now, at $19.99.month. TSN offers regional coverage of NHL games, NFL, CFL, and many other sports throughout the year.
YouTube Premium
If there's a downside to watching YouTube, it's having to put up with all of the ads. Thankfully, you can enjoy an ad-free experience by signing up for YouTube Premium. In addition to an ad-free experience, you can download videos for offline viewing, and listen to YouTube Music ad-free. The first 3 months are free, after that, it's $11.99/per month.
Did you know that more than 30 Canadian networks actually stream full episodes online? If you think about it, these networks make their money from advertisements, not necessarily access to the shows themselves.
How to Set Up Your TV
Before you can stream free TV, you'll need to make sure your TV and/or mobile devices are set up properly.
First, you need to have a high-speed internet connection. Otherwise, you may find it hard to stream shows because load times will be slow and the video quality will suffer. Make sure you have at least a 5 Mbps connection or talk to your internet provider about upgrading your service. You may need to pay more, but this extra cost will be less than what you're saving on your cable TV bill.
Second, make sure your TV can actually stream these shows. This probably isn't a problem in 2023. If you have a Smart TV, most of the work is done for you. These devices help you connect to the internet and may even have apps installed to stream free shows. Also, your TV can mirror content playing on your smartphone or tablet. What this means is you can access free streaming options on your device and broadcast it on your TV.
You may prefer a separate hardware device. Devices like an Apple TV or Roku stick add Smart capability to your TV. You simply connect them to your TV, power them up, and you're ready to go. They also come with their own remotes to make it easier to search for content.
Final Thoughts Free TV Streaming Services in Canada
If you're like I was while researching this article, you may have been shocked to discover just how many free TV streaming options there are for Canadians. Gone are the days when you were limited to the programming offered by your cable or satellite TV provider. And those services were always so expensive, too.
But with so many options, how do you pick which platform(s) to use?
I recommend that you start by looking through the free streaming TV options. Find your 3 or 4 favourites, and then, if needed, fill in the gaps with a paid subscription or two.
For example, if you love watching the news, and the latest TV shows AND you happen to be a big Blue Jays fan, you could combine a free TV streaming service like CityNews or CTV with Netflix and Sportsnet Now subscriptions.
If you're an avid Amazon shopper, remember that a Prime subscription includes free access to Amazon Prime Video, so you may not even need to pay for Netflix.
Lastly, take advantage of the free trials that many of these platforms offer, whether it's for 7 days or 3 months. It's yet another way to get a lot of TV watching done for free.