Tim Rewards: Scan Your Way to Free Tim Hortons Coffee and More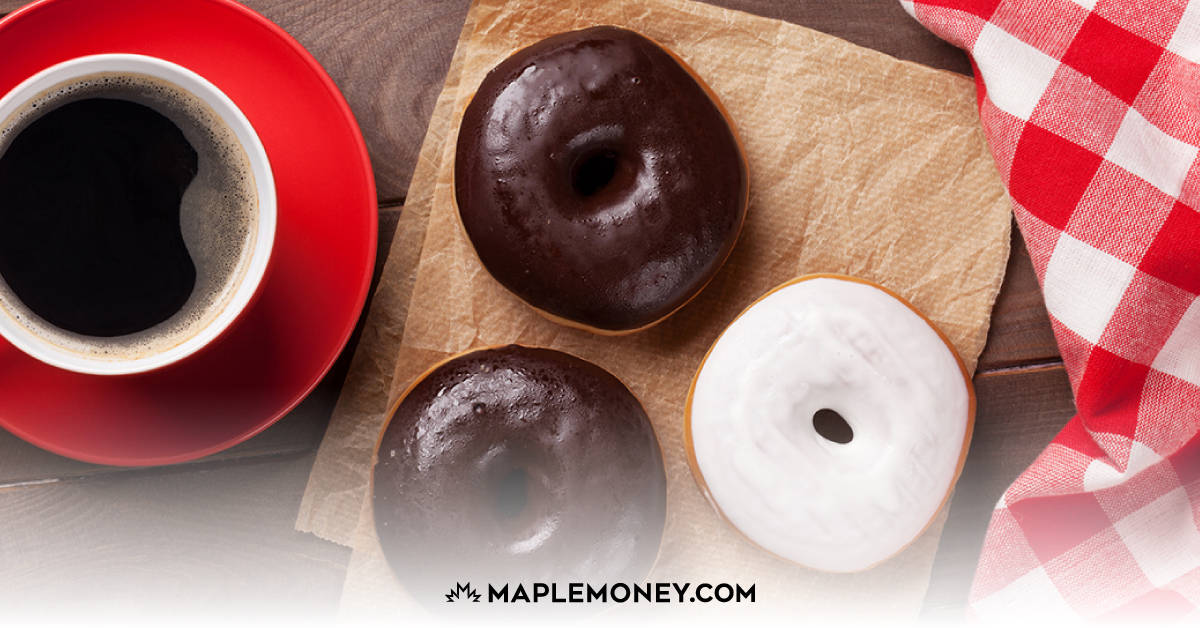 It was a long time coming, but Tim Hortons has finally introduced a customer loyalty rewards program, joining some of its closest competitors, like McDonald's and Starbucks. Now, patrons of the popular coffee chain, which to many is as Canadian as hockey and maple syrup, have yet another reason to get their coffee fix at Tim Hortons. The new program – Tims Rewards, is easy to follow and allows customers to earn free items without having to spend large amounts of money. Let's take a look at how it all works.
How to Earn Tims Rewards
To get started earning Tims Rewards, you'll need to get set up with a physical rewards card during your next visit. Or, you can download the Tims mobile app, which is available for both iPhone and Android devices, scan whenever you make a purchase.
Earning rewards is very straightforward. After every 7 eligible purchases made at a Tims location, you'll be rewarded with a free coffee, tea, or a baked good of your choice. Bagels and Timbits are excluded as a free reward. At that point, the count is reset, and you start the process over. Purchases must be a minimum of $.50 to be eligible, which shouldn't be an issue, considering a single Timbit is $.25. Also, purchases must be at least 30 minutes apart. One nice touch is that if you happen to purchase multiple items when you become eligible for a reward, the most expensive item is free.
Features of Tims Rewards
Free to join
Scan your physical card, or use the mobile app
After 7 purchases, receive a coffee, tea, or a baked good free
When multiple items are purchased, the most expensive item is free
Bagels, Timbits are ineligible as a free item
Minimum spend to qualify is $.50
To count, purchases must be at least 30 minutes apart
Calculating the Value of a Tims Reward
Tims Rewards is different from most loyalty rewards programs, in that there is no set value for a reward point. How much your reward is worth will depend on how much you spend each time you make a purchase, and which item is redeemed for free, after your 7th purchase.
For example, if you only spent $.99 (the price of a single donut) on each of your next 7 trips to Tims, then selected a large coffee on your 8th visit, your reward would carry a value of almost 30% (spend $7, earn $2)! Of course, most people will spend much more than that per visit, so the value is greatly reduced. Let's say you have a daily habit of stopping in for a large coffee on the way to the office each morning. With every 8th coffee being free, your reward would be closer to 14%, still very attractive.
By comparison, Starbucks would require you to spend over $60 before you could redeem for a free beverage. McDonalds McCafe works more like Tims Rewards, in that every 8th purchase is free. With McDonald's however, only hot beverages qualify for both earning and redemption, so items such as cookies or muffins are ineligible.
Can I Bank My Tims Rewards?
According to the Tims website, if you use the mobile app to order ahead and pay, you can select an option to bank your reward upon checkout. It can then be redeemed the next time you are paying in-store, and will automatically be assigned to the highest-priced item. In case you're wondering, you can bank as many as 5 rewards, but free items must be used up within 120 days or they will expire.
Maximizing Tims Rewards
With such a simple set up, it's difficult to maximize rewards using the Tims Rewards program on its own. What you can do is stack rewards with a credit card that gives you points for restaurant purchases. Here's a quick look at 3 cards that would qualify.
American Express Cobalt Card
With this premium credit card, you'll earn 5 points on every dollar you spend at Tim Hortons. Alone, this can equate to a value of over 8%, depending on how you redeem the points on the card. When you combine that with a free food item or beverage after every 7th trip to Tims, it's a great combination for a loyal Tims customer. The annual fee for this card is $120.
Scotiabank Gold American Express
Another Amex offering, the Scotiabank Gold card will also earn you 5 points on every dollar you spend at restaurants like Tim Hortons, as well as on groceries. The redemption value of this card is not as high as the Amex Cobalt Card, but it's still an attractive option. The annual fee for this card is also $120.
Tangerine Money Back Mastercard
Here's a no-fee credit card option that will earn you 2% on money spent at restaurants like Tims. It's an interesting card in that you get to choose 2 spending categories with which to earn increased rewards, so you need to make sure to select 'restaurants' as one of your preferred categories. Tangerine customers have the option of selecting 3 categories, instead of just 2. There is no annual fee for this card.
Is Tims Rewards Worth It?
Almost any time a retailer is offering a free rewards program, my answer is yes, it's worth signing up. After all, why not earn points when you spend, especially if it's not costing you anything. The better question may be how Tims Rewards stacks up against the loyalty programs of its competitors, namely McDonalds McCafe, and Starbucks Rewards.
In my opinion, Tims Rewards comes out ahead, due to the minimum spend required to earn a free food item or beverage. As with my earlier example, you could purchase 7 donuts (on separate trips) at $.99 a pop, and earn a free coffee or tea. So, you spend approximately $7 and earn a reward worth $2 or more. That's a great return, better than you would get from McDonald's, and far superior to Starbucks. Is it enough, however, to cause someone to switch to Tim Hortons from their restaurant of choice? It's tough to say. What's more likely to happen, is that existing Tims customers will spend more money on coffee and donuts.