Wealthsimple Trade Review: Free Stock Trading for Canadians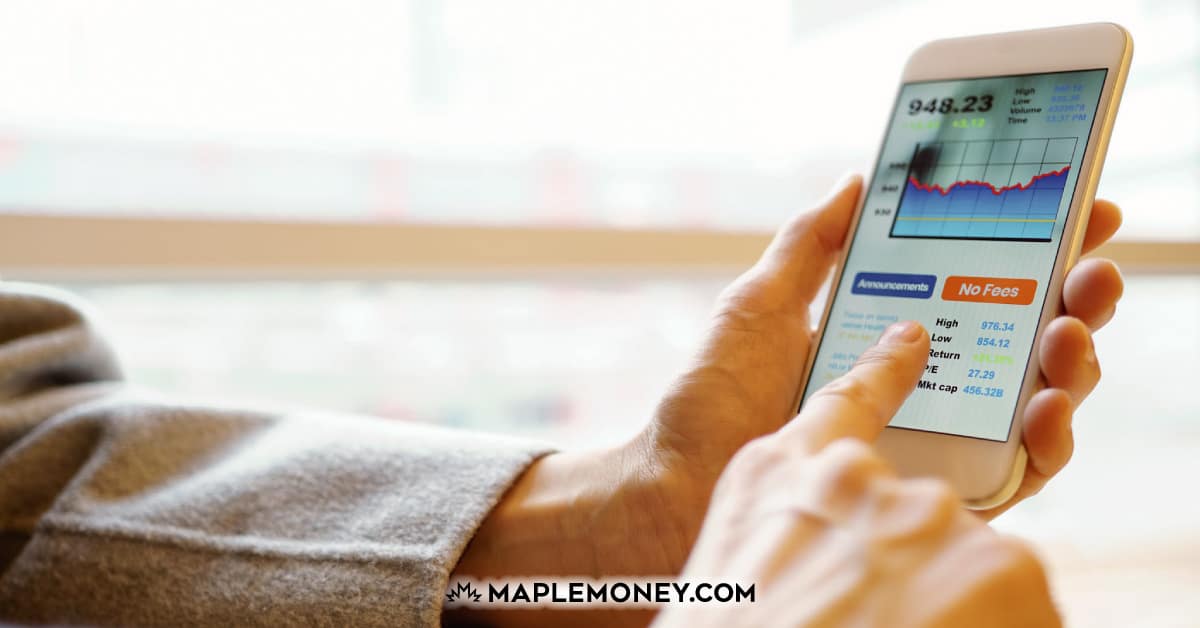 While free online stock trading appears to be the new normal south of the border, it has yet to infiltrate the vast majority of Canadian discount brokerages. Yes, we do have access to pretty cheap trading. With Questrade, for example, you can buy and sell stock for as little as $4.95/trade. But free? For many, it still feels a bit like a pipe dream. So, it may come as a surprise to know that there is a Canadian online broker that does in fact, offer free stock trading. Enter Wealthsimple Trade.
Introducing Wealthsimple Trade
Wealthsimple Trade is the newest offering from Canadian robo-advisor giant Wealthsimple. It's a mobile-only app (more on that in a moment) that allows users to buy and sell thousands of stocks and ETFs at no charge, with no minimum account balance requirement and unlimited trades. The Wealthsimple brand has become synonymous with low cost, hands-off investing via its robo-advisor ETF portfolios, but with Wealthsimple Trade, they're placing more control back into the hands of investors.
But while the prospect of free trades is intriguing, price isn't everything. In this article, you'll learn everything you need to know about Wealthsimple Trade, its advantages, and its shortcomings. And I'll let you know how it compares to other, popular Canadian discount brokerages.
Getting Started With Wealthsimple Trade
Your Wealthsimple Trade account can be set up in 3 easy steps.
Download the Wealthsimple Trade app from the Apple or Google Play store. The app is available on both iOS and Android devices.
Next, you'll need to provide Wealthsimple Trade with some personal information, which includes linking your bank account, so that you can fund your new trading account.
Once your bank account is connected, you can transfer funds over, and get ready to begin trading. Keep in mind, transfers from your bank account will take a few days to show up in your Wealthsimple Trade account.
Key Features of Wealthsimple Trade
Trading Made Easy
Wealthsimple Trade lacks some of the bells and whistles of more advanced trading platforms from industry leaders. While more experienced, sophisticated traders will no doubt find this to be somewhat limiting, it removes the clutter and makes executing trades a breeze. It's ideal for less experienced investors who are only concerned with the basics.
Account Types
Wealthsimple Trade now offers three account types, including Personal (non-registered), TFSA, and RRSP options. This should be enough to satisfy the vast majority of investors, but if you're looking for other account types, such as a RIF, or RESP, you'll need to look elsewhere.
No Account Minimums
This is an attractive feature of Wealthsimple Trade. Too many of the big discount brokers require you to have a sizeable balance in your account to avoid inactivity fees or annual fees for that matter. High fees can really eat into returns. While this is less of a concern for a high net worth investor, for new traders starting at zero, the absence of a minimum balance requirement is a beautiful thing.
Wealthsimple Trade – Pros and Cons
At first glance, there's a lot to like about Wealthsimple Trade, if all you want is a straightforward way in which to buy and sell stocks and ETFs. That said, the platform has gaps, for anyone looking for a more complete trading solution. To help you decide if Wealthsimple Trade is right for you, I've put together the following list of pros and cons:
Pros
Unlimited, free stock and ETF trades
No minimum account balance requirement
Simple, straightforward mobile app
Large selection of stocks and ETFs
TFSA and RRSP account availability
Accounts are CIPF protected, up to $1MM
Cons
Mobile app only, no desktop access
Not linked to regular Wealthsimple accounts, cannot view together
Lack of in-depth market research tools
No real-time quotes
Lack of automated trading features
Wealthsimple Trade vs. Questrade
When you compare Wealthsimple Trade to most leading Canadian online brokers, it boils down to no fees (Trade) vs. increased functionality and robust market and research tools (leading brokers). Rather than pit Wealthsimple Trade against all of the competition, let's take a look at how it stacks up against Questrade. I'm using Questrade as a comparison because it happens to be the broker I use personally and the one I recommend most often to MapleMoney readers.
Account Minimums
With Wealthsimple Trade, there is no account minimum, as soon as the first dollar lands in the account, you can begin trading. Questrade has a minimum balance of $1,000, which, while easily accessible, requires a bit more cash upfront. Advantage: Wealthsimple Trade
Trading Fees
Until Wealthsimple Trade, Questrade has been the fee leader amongst Canadian online brokers. With Questrade, there are no commission fees to purchase ETFs, and you can buy and sell stocks for as low as $4.95/trade. Wealthsimple Trade actually trumps Questrade when it comes to standard trading fees. Simply put, there are no fees. And you can buy AND sell ETFs at no charge. Advantage: Wealthsimple Trade
Account Types
As I mentioned previously, with Wealthsimple Trade, you can open a non-registered (taxable) account, as well as a TFSA, or RRSP. Questrade, on the other hand, offers all of these, in addition to RESPs, RIFs, LIFs, and LIRA account. Down the road, you may see a broader account offering from Trade, but until then, Questrade leads in this regard. Advantage: Questrade
Trading Platforms
When it comes to trading platforms, it's not much of a comparison. That's because with Wealthsimple Trade, there is no desktop version available, you must do all of your trading via the mobile app on your smartphone. Questrade offers both a mobile app, and a desktop trading platform.
Not only that, but the functionality of the Questrade platform is far superior, offering automated trading options, advanced market and research tools. I should point out that the Wealthsimple Trade app is very clean and easy to use, in part because it's not cluttered with extra features. Experienced traders will appreciate the increased functionality of the Questrade platform, however. Advantage: Questrade
Questrade remains the best choice overall, as it's not limited by account types, and it offers a much more robust trading platform and functionality than Wealthsimple Trade. That said, it can no longer trumpet itself as the clear leader when it comes to fees. If you're in need of a simple trading platform with which to buy and sell stocks or ETFs, then the no-cost Wealthsimple Trade may be the way to go.
Does Wealthsimple Trade Measure Up?
If you're launching a new online brokerage and you want to make an instant impact, creating a free account with no fees is a great way to go about it. Especially in Canada, where investors are clamouring for the no-fee trading that is sweeping across the industry in the US.
If you ask me, you may want to consider opening a Wealthsimple Trade account if you're a new investor, looking to do basic stock and ETF trading (and don't mind doing your own research off-site), or an existing Wealthsimple client who wants more control over a portion of your investments. More experienced, high net worth investors, who can stomach higher fees, will likely stick with their preferred discount broker. You never know though, that may change as Wealthsimple Trade continues to evolve, with improved tools and trading options.