Where to Find Coupon Inserts in Canada
Where to get coupon inserts, this is a question that I get asked a lot. So today I will talk little bit about coupon inserts and where you can find them. Many readers want to know about these kinds of inserts and where they can find them and how they can get multiples of them.
So, hopefully this information will guide you in the right direction.
The type of coupon inserts that are available in Canada right now are:
Brandsaver: These come out every 3-4 months.
Smart Source: These come out every 3-4 weeks.
Redplum: These come out every 4 weeks or so.
Those are the 3 coupon inserts that are available. Now, where can you find them, and how can you get multiples of them?
The number one way that I personally get multiple coupon inserts is through family, friends and, actually, the paper carrier. She gets lots of extras and gives them to me instead of just throwing them out (which is what she is told to do by her boss).
Here are some tips for finding coupon inserts in Canada: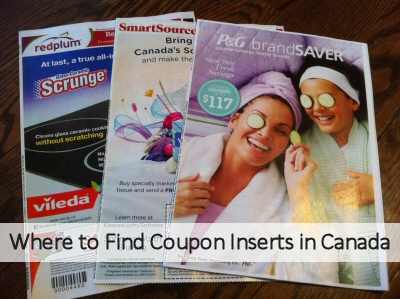 Tip #1
Tip #1 is to ask your friends and family. If you have friends and family members who don't use coupons, or who don't use them as heavily as you might, simply ask them if you can have their coupon inserts. If they don't use them themselves, they will usually give them over to you.
Sometimes you may have to offer some free goodies from your stockpile, but I'm sure that would be worth it!
Tip #2
Tip #2 is to check with your local recycling centre(s) and/or your local paper carrier, and ask them if they have any extra coupon inserts that they are allowed to give out.
A lot of places actually aren't supposed to give out those extra coupon inserts (they have to send them back to Smart Source, Brandsaver or Redplum), but there are a few exceptions to this, so I do encourage you to check.
Tip #3
Tip #3 is coupon trading. A lot of people get extra coupon inserts from the ways described in tip #2, so they usually have lots of extras that they can't use themselves. These people are likely to trade those extra coupons.
Check out our coupon trading forum to trade coupons with other Canadians.
Those are my top 3 tips for getting extra coupon inserts.
There is another way to get extra coupon inserts, but it's not one that I recommend – purchasing them on Ebay. Now, I'm only mentioning this because I know that people are going to bring it up, so I just wanted to acknowledge why I don't think it's a good idea to purchase those extra coupons on Ebay.
Most people who are selling coupon inserts (and often tear pad coupons) on Ebay have usually gone about getting those extra coupons the wrong way.
Especially with tear pad coupons, some people will take entire tear pads of coupons, just to sell them on Ebay and I find this to be very wrong. I don't recommend supporting these people by purchasing their coupons on Ebay.
The only way I would recommend purchasing coupons from Ebay is if you are purchasing a "LOT" of coupons that come from multiple sources (tear pads, save.ca, coupon inserts, websaver.ca, etc.). These auctions are often just people trying to get rid of their own coupons that they do not need.
The top 3 tips above are how I get my coupon inserts and how many of my friends get coupon inserts as well.
Couponing Tip: Hold on to Your Coupon Inserts
There are many advantages to holding on to your coupon inserts, instead of just flipping through them and clipping out the coupons you want.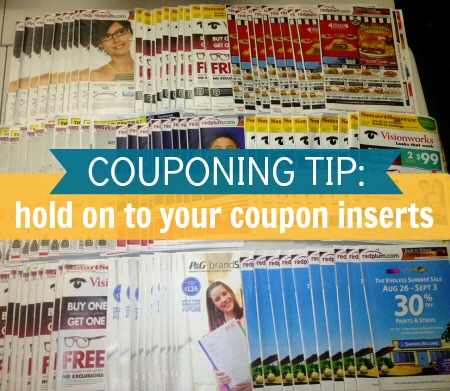 Even if a coupon insert has coupons for products you don't use, I still suggest holding onto them because you never know when a sale will come along that you can pair that coupon with – resulting in a free product. Then, you can donate those items to those in need. For example:
Pet food & supplies to animal shelters
Baby food, diapers, wipes & supplies to women's shelters
Non-perishable food & beverages to food banks
What I do with coupon inserts
I clip the coupons I plan to use, then file the rest away in a file box that is separated by release date (I also list the expiration dates on the folders that hold the coupon inserts).
If I ever need one of those coupons that hasn't been clipped, I just search for the insert by date, clip my coupon and I'm good to go!
If I were to simply discard the coupon insert when I was done clipping out the coupons I wanted, I wouldn't be able to snag freebies and great deals for donation!
Where to Find Redplum & SmartSource Coupon Inserts
Are you looking for Redplum & Smart Source coupon inserts in Canada? Below is a list of newspapers that you can find them in.
Alberta

Brattleford Regional Ad Post
Fort McMurray Today
Fort Saskatchewan This Week
Grande Prairie Herald
Leduc Rep
Sherwood Park News
Calgary Herald
Edmonton Journal
Calgary National Post
Lethbridge Herald
Medicine Hat News
Red Deer Advocate
Calgary Sun
Edmonton Sun
Bow Island Commentator
Coaldale Sunny South News
Taber Times
Edmonton Examiner
British Columbia

Trail Times
Cranbrook Townsman
Dawson Creek Mirror
Kelowna Daily Courier
Kimberley Daily Bulletin
Merritt News
Nanaimo Daily News (Free Press)
Penticton Southern Exposure
Squamish Chief
Sunshine Coast Reporter
Abbotsford/Sumas/Mission Times
Aberni Valley The Pennyworh
Campbell River Courier Islander
Chilliwack Times
Coquitlam Now
Courtenay Comox Valley Echo
Duncan Cowichan Valley Citizen
Harbour City Star
Langley Advance
Maple Ridge Ridge Meadow Times
Richmond News
Surrey Now
Grand Forks Boundary Bulletin
Vancouver National Post
Vancouver Sun
Kamloops Daily Extra
Kamloops Daily News
Kelowna Event
Penticton Herald
Prince George Citizen
Burnaby Now
Delta Optimist
New Westminister Record
Fort St. John Express
Vancouver Province
Victoria Times Colonist
Dawson Creek (Fort St. John) Regional News (Peace River Block News)
Fort St. John North Peace Express
North Vancouver North Shore News
Creston Valley Advance
Hope Standard
Prince George Review
Whistler Question
Oceanside Star
Tofino The Westerly
Parksville Qualicom News
Mackenzie Times
Agassiz-Harrison Observer
Fernie Free Press
Vernon Morning Star
Wiliams Lake Cariboo Advisor
Bridge River-Lillooet News
East Kootenay Weekly
Manitoba

Nickel Belt News
Selkirk/Gimli/Stonewall Interlake Papers
Winnipeg Free Press
Brandon Sun/Westman
Winnipeg Sun
Brandon Wheat City Journal
New Brunswick

Woodstock Bugle-Observer
Fredericton Gleaner
Moncton Times Transcript
Restigouche La Voix
Saint John Telegraph Journal
Bathurst Northern Light
Campbellton The Tribune
Newfoundland

Gander Beacon
Corner Brook Western Star
St. John's Telegram
Grand Falls Advertiser
Nova Scotia

Bedford-Sackville Weekly News
Dartmouth-East Cole Harbor Weekly News
Halifax-West Clayton Park Weekly News
Digby/Kentville/Yarmouth (Halifax) Chronicle Herald Provincial Ed.
Halifax CH/Mail Star
Amherst Daily News
Antigonish A&G Transaction
New Glasgow News
Sydney/Cape Breton Post
Truro Daily News
Bridgewater Bulletin
Ontario

Ajax/Pickering News
Brampton Guardian
Burlington/Hamilton Spectator
Cambridge Reporter
Etobicoke Guardian
Mississauga News
North York Mirror
Oakville Beaver
Oshawa/Whitby/Port Perry/Clarington This Week
Scarborough Mirror
York/Bloor West Guardian
Bancroft This Week
Barrie Examiner
Belleville Intelligencer
Brantford Expositor
Chatham Kent Citizen
Collingwood Enterprise-Bulletin
Cornwall Standard Freeholder
Dunnville Chronicle
Frontenac This Week
Guelph Smart Shopper
Hanover Post
Innisfil Examiner
Kirkland Lake Northern Daily News
Midland Free Press
Niagara Falls Review
North Bay Nugget
Northumberland Today
Orillia Packet & Times
Owen Sound Sun Times
Pembroke Observer
Picton County This Week
Sarnia Observer
Sault Ste. Marie Star
Sudbury Star
Timmins Daily Press
Trenton Trentonian
West Niagara News
Ottawa Citizen
Ottawa National Post
Toronto National Post
Windsor Star
Thunder Bay (Ontario) Times-News/Chron.-Jrnl.
Guelph Mercury
Kitchner/Waterloo Record
Markham Economist
Richmond Hill/Thornhill/Vaughn Liberal
Brockville Recorder
Chatham Daily News
Fort Erie Times
Kingston Whig Standard
London Free Press
St. Catharine's Standard
St. Thomas Times Journal – Elgin County Mkt
Stratford Beacon Herald
Welland Tribune
Woodstock Oxford Review
Toronto Star
Aurora/Newmarket Banner/Era
Ottawa Sun
Toronto Sun
Alliston Herald
Arnprior Chronicle-Guide
Barrie Advance
Bolton-Caledon Enterprise
Carlton Place Canadian-Almonte Gazette
Collingwood The Connection
Dunnville Sachem
Georgetown/Acton Independent/Free Press
Grimsby Lincoln News
Kanata Kourier-Standard
Kemptville Advance
Midland Mirror
Milton Champion
Niagara This Week
Orangeville Banner
Orillia Today
Perth Courier Weekender
Renfrew Mercury Weekender
Smith Falls This Week
Stittsville News
Uxbridge Times Journal/Tribune
Highlands Weekender
Kingston This Week
Kitchener/Waterloo Smart Shopper
Lindsay Daily Post
Peterborough Examiner
Simcoe Reformer
Elliot Lake Standard
Windsor Smart shopper
Prince Edward Island

Charlottetown Guardian
Summerside Journal Pioneer
Quebec

Sherbrooke Record
Montreal Gazette
Montreal National Post
Chicoutimi (Saguenay) Le Quotidien
Granby La Voix de L'Est
Montreal La Presse
Ottawa Le Droit
Quebec Le Soliel
Sherbrooke La Tribune
Trois Rivieres Le Nouvelliste
Baie Corneau/Forrestville Objectif Haute Coute Nord
Montreal Le Journal de Montreal
Quebec Le Journal de Quebec
Jonquiere Le Reveil a Jonquiere
Rimouski Progres Echo Dimanche
Rouyn/Noranda Le Citoyen
St. Jerome Le Mirabel
Montmagny Le People Cote-Sud
Montreal Publi-Sac
Gaspe Le Pharillon
Montreal (St. Therese) La Voix des Milles-lles
Val d'Or Le Citoyen Abitibi-Est
Montreal AMS de Quebec
Saskatchewan

Estevan SE Trader Express
Humboldt Regional Trader
Parkland Review
Lloydminster (Alberta) Daily Times/Meridian Booster
Assisinboia Times
Regina Leader Post
Saskatoon Star Phoenix
Moose Jaw Times Herald
Moose Jaw News EMC
Prince Albert Herald
Maple Creek News
Swift Current The Southwest Booster
Yorkton This Week & Enterprise