Time for a WEM Vacation? Here Are the Things to Do at West Edmonton Mall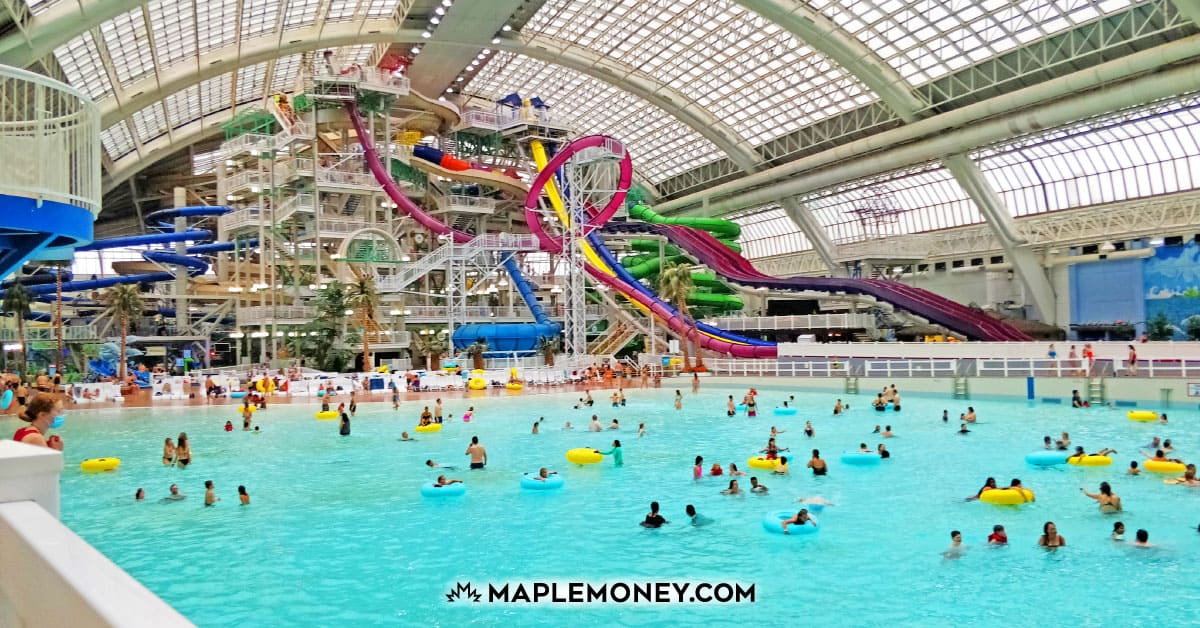 In 2021, many Canadians who usually vacation outside of the country decided to stay within Canada. But that doesn't have to be a negative thing. There is no shortage of adventures to be had across our great country.
Recently, my family had the chance to spend a weekend at West Edmonton Mall (WEM), and had an absolute blast! If you've ever been, you know that Canada's largest mall has a lot more to offer than just shopping.
It's home to Galaxyland, North America's largest indoor amusement park, a massive indoor waterpark, the Marine Life aquarium, and many other attractions. Even if you live outside the province, West Edmonton Mall can make for a wonderful multi-day vacation spot.
In this article, I'll cover all of the main WEM attractions and show you how to get the most bang for your buck if you're bringing your family for a weekend.
The Two-Day Multi Park Pass (Recommended)
If you're spending a weekend at WEM, as we did, the Two-Day Multi Park Pass is your best value. You don't get the discounts offered with Multi-Play (see below), but Multi Park gets you into just about every attraction for two full days.
2-Day Multi Park Pass
Individual: $119
Multi-Play Pass
The Multi-Play Pass is ideal for more extended stays or frequent trips to WEM. Not only do you get unlimited access to almost all West Edmonton Mall attractions, but you also get some excellent discounts. Here's how it breaks down:
Seven-Day Pass (valid for 7 consecutive days)
Individual: $220
Family (up to 4): $720
Additional Family Member: $180
Three-Month Pass (valid for 3 consecutive months)
Individual: $330
Family (up to 4): $1075
Additional Family Member: $270
One-Year Pass (Valid for 12 consecutive months)
Individual: $440
Family (up to 4): $1575
Additional Family Member: $395
Multi-Play Pass Discounts
25% off Skyflyer Zipline.
10% off food and non-alcoholic drinks at World Waterpark and Ed's Bowling.
25% off either three rides or 30 minutes or one continuous hour admission on Flowrider.
Earn with MyWEM Rewards
It seems as though everyone has a loyalty rewards program these days, and West Edmonton Mall is no different. Here's how it works:
Shop at any WEM stores, hang out at the attractions or stay overnight at the Fantasyland Hotel. All WEM destinations earn you rewards.
Upload receipts from your purchases, or scan your Loyalty ID(app) at the attractions.
Redeem the points you earn towards attraction passes, free hotel stays, and more.
West Edmonton Mall Hotels
The easiest way to spend a weekend at WEM is by staying at one of the two hotels on the property. This is especially true in the winter. Fantasyland Hotel is located inside the mall. It's got more than 350 suites, including fantasy-themed suites to make your trip even more memorable. The West Edmonton Mall Inn is located next to the mall and has 88 rooms. It's a perfect spot for families or couples to stay.
WEM Attractions
The highlight of our trip to West Edmonton Mall wasn't the shopping; it was the attractions, especially Galaxyland and World Waterpark. Let's take a closer look at the WEM attractions. I've included some tips that should also make your experience more enjoyable and save you some money.
Galaxyland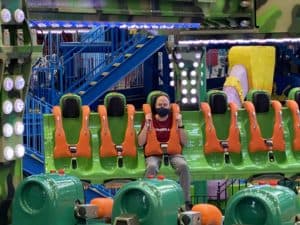 West Edmonton Mall features the world's largest indoor amusement park, called Galaxyland. It has more than 27 rides, including four roller coasters and a ropes course within its confines. You don't have to worry about anyone feeling left out, as they have plenty of rides for all ages.
Two of the newest rides at Galaxyland stand out: Havoc and Trouble Twist. Another one that was new to me was Quirks in the Works. It's a fun target shooting game that reminds me of Disneyland's Toy Story Midway Mania! And Buzz Lightyear Astro Blaster rides. My kids enjoyed Flying Galleon, Lazer Vault, and Time Freak.
Some of the rides were closed due to Galaxyland rebranding to Hasbro. There are new rides (Trouble), while others remain with a new name (My Little Pony.) If you're visiting when rides are partially closed, you should see a reduced ticket price, as we did.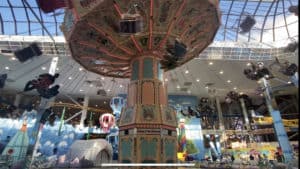 West Edmonton Mall Galaxyland Prices
2 Day Multi Park Pass: $119
OR
General Admission: $30 online (must be 43 inches or taller)
OR
Multi-Play Pass: (see pricing above)
World Waterpark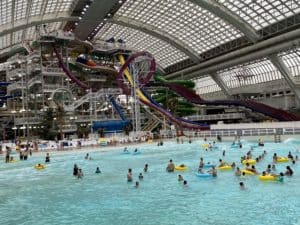 Kick back and enjoy the waves at West Edmonton Mall World Waterpark, which boasts the world's largest indoor wave pool. There are more than 17 waterslides, and other play features kids and adults alike will love. The waterpark can get crowded, but you escape to your private cabana, which you can rent for $100 (starting price.) The cabanas are perfect for large families or groups. One of the main attractions in the waterpark is FlowRider, which is a surf simulator.
During our time at World Waterpark, we rented a cabana. It's pricey but worth it, especially if you're with a larger group and can split the cost. My boys loved the Blue Thunder Wave Pool, and we had a hot tub close by to our cabana. Pro tip: Bring your towels; otherwise, you will be forced to rent. Life jackets and swim diapers are free for children.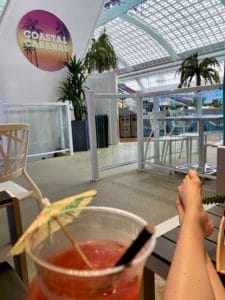 They have a wide range of waterslides for all ages. For example, the Beginner slides would be suitable for toddlers. My kids started with the Intermediate level slides and worked their way up to the Advanced. There is an Extreme level for the real thrill-seekers. We did tackle the SkyFlyer Zipline (for an added cost), which zips you high above the entire wave pool. The kids loved it!
West Edmonton Mall World Waterpark Prices
There are several different rates for World Waterpark admission. However, if you're there for the entire weekend, I recommend the 2-Day Multi Park Pass. Also, there are several add-ons you can pay extra for, like cabanas, inner tubes, towels, and lockers.
2-Day Multi Park Pass: $119
OR
Daily Admission
48" and over: $54 (Seniors 55+ $10 0ff)
Under 48": $44
Two and under: FREE
Twilight Pass: $40 (valid up to 3 hours before closing)
Weekday Value Pass: $40
OR
Multi-Play Pass: (see pricing above)
Dragon's Tale
Dragon's Tale is an 18-hole, blacklight mini-golf course as well as a Crystal Labyrinth mirror maze. The golf price starts at $10 for kids and moves to $15 for adults (Seniors get $2 off.)
If you want to tackle the mirror maze, it's a $4 add-on or $6 for standalone admission.
Drive
West Edmonton Mall is home to one of North America's three-level indoor go-kart tracks. If you're looking for an adrenaline rush during your visit to WEM, this is it!
A seven-minute ride will set you back $29 per person, and WEM doesn't include Drive in any of the Park Passes. If you live in Edmonton, you may want to pick up an annual membership for $15, which will get you a $5 discount off of admission for an entire year.
Ed's Bowling
Ed's Bowling is a lot more than just a ten-pin bowling alley. You can also play billiards, check out the escape rooms, or head to the arcade.
Ice Palace
The Ice Palace is a full-size hockey rink situated in the middle of the mall. It recently underwent a $3 million renovation and is open for public skating, figure skating, and hockey. If you prefer to stay off the ice, there are plenty of spots to relax and observe around the rink area.
Marine Life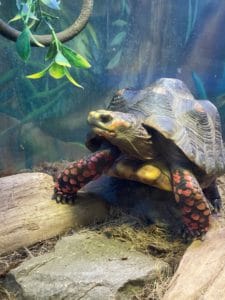 Marine Life at Sea Life Caverns is an underground aquarium with more than 100 fish species, sharks, penguins, sea turtles, and other marine life. Marine Life offers encounters with some of the aquariums more interesting residents, like the African penguin or the Sea Lion.
Professor WEM's Adventure Golf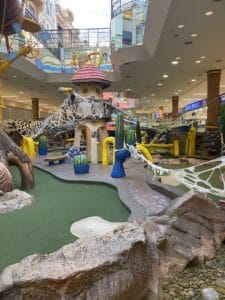 Professor WEM's Adventure Golf is an 18-hole mini-golf course located in the mall. Individual prices range between $10 and $15 but are included in the Two-Day Multi-Park Pass.
Shopping At West Edmonton Mall
If you've come to WEM to shop, you won't be disappointed. West Edmonton Mall is the largest shopping center in North America, ahead of Minneapolis's Mall of America. It boasts more than 800 retail stores, in addition to all of the major attractions. Here's a list of just some of the retailers you can expect to see when you visit:
Aldo
American Eagle Outfitters
Apple Store
Ardene
Best Buy
Bluenotes
Canada Goose
Eddie Bauer
Forever 21
Gucci
Guess
H&M
Harry Rosen
Hollister
Hudson's Bay
Indigo
La Vie En Rose
London Drugs
Lush
Mac
Mark's
Marshalls
Michael Hill
Michael Kors
Old Navy
People's Jewellers
Pink
Purdys Chocolatier
Reitmans
Roots
Second Cup
Sephora
Sleep Country
SoftMoc
SportChek
Sunglass Hut
Sunrise Records
The Brick
UNTUCKit
Urban Outfitters
Urban Planet
Victoria's Secret
Warehouse One
Toyota
Winners
Final Thoughts from Our WEM Vacation
It wasn't our family's first time at West Edmonton Mall, but there is so much to do that it's always fun. You can easily fill a weekend inside the mall, especially with Galaxyland and the waterpark at your disposal. You will save money and get the most out of the experience by purchasing the 2-Day Multi Park Pass. The only attraction that isn't covered is Drive, the indoor go-kart track. If you're looking for something fun this winter, and a trip to Disneyland seems like way too much hassle, give West Edmonton Mall a try.