Why I Think Birthday Party Loot Bags Are Unnecessary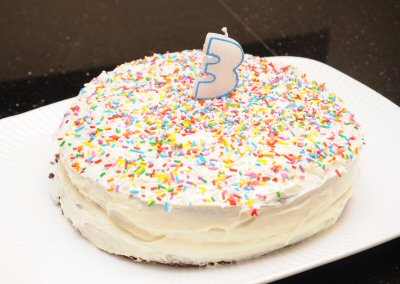 Elliott turns 3 years old today! I can't believe I've been a mom for 3 years. It's true what they say (whoever they are): time flies when you're having fun!
This weekend we threw a small birthday party for Elliott. Most of our family was busy, unfortunately, so only a few family members could come (some friends/neighbourhood kids came as well).
When I was planning the party, I kept having Pinterest images pop into my head. I needed the coolest decorations, the most delicious food in a multitude of flavours and types, games galore and amazing loot bags that people would be talking about for ages… but then I wondered… "why do we need to give out loot bags anyway?". I've never really understood why you are supposed to give presents to other people on YOUR birthday. It just doesn't make sense to me.
I asked a few friends with children what they thought, and they said that loot bags were kind of a "thank you" for coming to the party. Which still doesn't make sense to me. Isn't all the food and entertainment thank you enough?
My husband and I talked about it and decided that loot bags were not for us. It was an expense that we really just didn't find necessary at all. We had tons of food (we gave leftovers to lots of people to take home, there was so much!) and my friend brought over the most amazing bouncy castle for the kids to play in. We had a pool, toys and lots of other fun stuff. From what I could tell, everyone left happy and there were no complaints about the lack of loot bags.
People have been telling us they had a great time, so we deem this 3rd birthday party a success – even without loot bags!
How do you feel about giving loot bags at birthday parties?