5 Best Day Trading Platforms in Canada for 2023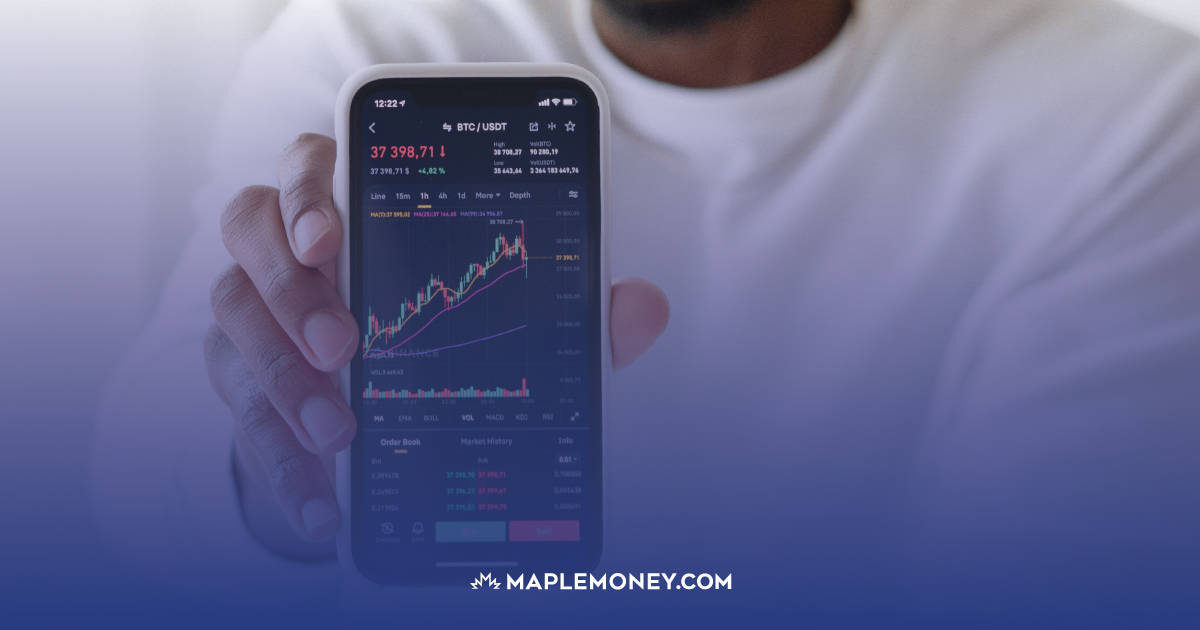 Most investors prefer to keep things simple by using a buy-and-hold strategy. They realize it's no use to try and outsmart the market and that it's easier to buy their ETFs and mutual funds and let the magic of time and compounding do the work.
However, there are a brave few, known as day traders, who believe they can do better than traditional market returns by taking advantage of short-term price fluctuations in the stock market.
Experienced day traders understand that having the right platform to trade stocks is critical for success. But with so many online brokers offering low-fee trading, how does an aspiring day trader know which one is best for them?
In this article, I'm sharing five Canadian day trading platforms that are worth considering. Each one stands out for having low fees, an advanced trading platform, or both. But before we get to the list, here's a little background on day trading.
What Is Day Trading?
Day trading is an investment strategy where investors look to capitalize on day-to-day fluctuations in stock prices in the hopes of earning short-term profits. Day traders buy and sell stocks frequently and use technical analysis to identify opportunities.
Day Trading Strategies
Day traders use different trading strategies in order to maximize profits. While some are pretty complex, here's a basic description of the most common ones:
Market Opening Gap: A day trader using this strategy believes that the market will fill small gaps in the price of a stock at the market opening. (The gap between the opening price and the previous day's closing price.) Significant gaps may continue to trend in the same direction.
Scalping: Scalpers use technical analysis to try and make money on small price gains throughout the trading day.
Range-Trading: Range traders notice that certain stocks change in price (within a specific range) over a relatively short period, and they trade within that range.
High-Frequency Trading (HFT): Involves using complex algorithms to make decisions on large numbers of trades within short periods. Faster traders tend to be more profitable using this strategy.
News-based Training: News-based traders look at what's happening in the overall economy and different industries and base trading decisions based on anticipated changes.
Where Can I Day Trade in Canada?
To day trade, you need open an online brokerage account that will allow you to buy and sell stocks, forex, commodities – whatever securities you're wanting to trade. There are more than a dozen online brokers in Canada, so I've selected some of the best brokerages for day trading.
No single platform is better than the rest, it depends on the types of investments you want to day trade. However, there are a couple of things you should consider before choosing an online broker: prices (trading fees) and research tools.
Because day traders are buying and selling frequently, trading fees could have a significant impact on your profits. Remember that most brokers offer preferred pricing for active traders.
Remember that price isn't everything. Not all brokers offer the same level of technical analysis, real-time quotes, and other research tools.
Ideally, you'll choose a broker that balances price with a powerful trading platform.
Best Day Trading Platforms
As mentioned, for day trading in Canada, you need access to a low-cost online broker. A robust trading platform with the right research and analytical tools is also critical. These five brokerages all fit the bill in one way or another.
Questrade
Questrade is an independent brokerage that combines competitive pricing with a solid trading platform. They don't charge fees for ETF purchases, and you can buy and sell individual stocks for as little as $4.95 per trade. Here is a breakdown of Questrade's active trader pricing. You have the option of fixed or variable pricing.
Active Trader Pricing – Fixed or Variable
Stocks $4.95 /trade or $.01/share (min $.01 to max $6.95)
Options: $4.95 + $0.75/Contract or $6.95 + $0.75/Contract
ETFs: Free to Buy ($4.95 to sell) or Free to Buy (Sell at $.01/share – min $.01 to max $6.95)
FX & CFDs: Pips as low as 0.8 / Pips as low as 0.8
Questrade Platforms
Questrade has something for everyone, offering four different trading platforms: Questrade Trading Platform, QuestMobile, Questrade Edge (for advanced traders), and Questrade Global (Questrade's foreign exchange trading platform).
Let's take a closer look at Questrade Edge, which is the ideal platform for day traders:
Questrade Edge
Questrade Edge is available as a desktop application or web-based app. The desktop version is the most powerful and has the most features. In addition to the standard features that come with Questrade's regular trading platform, active traders have access to the following features:
Custom Workspace – lets you create the most intuitive trading experience possible.
Advanced Trading Orders – access advanced trades, like conditional and bracket orders and multi-leg options strategies.
Advanced Market Research – Check stocks you're interested in against analyst ratings, and track general sentiment using Questrade's SmartScore technology.
Edge Desktop Features – When you choose the desktop application, you can use stock screening and market movers tools, as well as a market view window.
To qualify for Questrade's active trader pricing, you do need to pay for an Advanced Market Data Package:
Advanced US Streaming: $89.95 USD
Advanced Canadian Streaming: $89.95 CAD
Both data packages give you a closer look at the exchanges and indices data, with access to additional Level 1 data, and Level 2 data.
Click Here to Get Started with Questrade
TD Direct Investing
TD Direct Investing is Canada's largest online brokerage. While their trading fees are straightforward, they are on the high side (active trader pricing is available). TD's advantage lies in its trading platform, which is one of the fastest and most powerful in the industry. Let's take a closer look at TDs active trader pricing:
Active Trader Pricing
Stocks $7.00 per trade
Options: $7.00 + $1.25
TD Advanced Dashboard
To qualify for active trader pricing with TD Direct Investing, you must place 150 trades per quarter. One bonus is that qualifying traders can access TD's Advanced Dashboard at no extra cost (unlike Questrade, which charges for their Advanced Streaming Service). With TD, you only need to place 30 trades per quarter to access most of the data packages on the Advanced Dashboard.
TD's Advanced Dashboard includes the following tools:
Stock screeners
Bubble Charts
Heat Maps
Forex Matrix
Fully customizable charting with over 100 technical and fundamental indicators
50+ intelligent drawing tools
Option chains
Analyst Evaluations
Advanced order types, e.g., contingent orders, multi-leg option strategies
Choose from 26 other pre-designed option strategies
Positions management.
Wealthsimple Trade
If fees are your primary consideration, you can trade for free with Wealthsimple Trade. Canada's largest robo-advisor doesn't charge commission fees to buy stocks and ETFs. There is a downside, however. Wealthsimple's Basic trading platform is limited; you can't get real-time quotes, and you can't hold cash in US dollars.
Day traders would need to pony up $10/month for the Plus trading platform to access real-time quotes and unlimited US stock trading. But even the Plus platform lacks the tools brokers like Questrade and TD Direct Investing offer. Still, you can't beat Wealthsimple Trade's fees. Here's how they breakdown:
Wealthsimple Fees
Trading fees on US & Canadian securities: $0
Foreign Exchange Fee: WSII Corporate Exchange Rate x 1.5%
Options contract: US$3 ($2 per contract in the Plus Plan)
Options early exercise fee: US$45
Options exercise fee: US$20
Options ORF fee: US$0.01815 per contract
Options SEC fee: US$0.0000229 per gross dollar of sale, applied to sell transactions online
Click Here to Get Started with Wealthsimple Trade
For more information, check out our full review of Wealthsimple Trade.
QTrade
QTrade is an online brokerage arm of Aviso Wealth, one of Canada's largest wealth managers. The broker has also partnered with over 300 Canadian credit unions to provide self-directed investing services to their clients.
QTrade is well-known for its customer service and the ease with which you can open a new account. Their fees aren't as low as Questrade or Wealthsimple Trade but are cheaper than the big bank brokerages. QTrade does offer preferred pricing to active traders.
Active Trader Pricing:
If you execute 150+ trades per quarter or have $500,000 in assets per Client ID, you qualify for QTrade's active trader pricing (Investor Plus). Here's how it breaks down:
Equities: $6.95
Options: $6.95 + $1.25 per contract
Select ETFs: Free
Other ETFs: $6.95
Mutual Funds: $6.95
Fixed Income/Exchange Traded Debentures: $1 per $1000 Face Value
As you can see, QTrade's pricing is higher than Questrade's but slightly lower than TD Direct Investing. Investors can access the following day trading tools on the QTRade platform:
Stock screening tools
Technical research for evaluating entry and exit points
Morning News Call
New Issues for access to IPOs
Analyst Recommendations
Fundamental Research
Real-Time Quotes
Watchlists
Multiple Portfolio Views
Read our full QTrade review for more information.
Interactive Brokers
Interactive Brokers, IBKR for short, is a U.S.-based discount brokerage that operates in Canada. It's one of the top trading platforms in Canada and the best day trading platform for access to global markets. Its fees are competitive, and they offer low-interest rates on margin loans. Best of all, you can place trades on several global markers from a single platform.
Active Trader Pricing
IBKR offers tiered and fixed pricing for stock trades. There is a minimum trading fee of $1 for both tiered and fixed, and a maximum per order of 0.5% of the trade value:
Tiered ($CAD – Based on monthly share volume)
Up to 300,000 shares: 0.008/share
300,001-3,000,000: 0.005/share
3,000,001-20,000,000: 0.004/share
20,000,000+: 0.003/share
Fixed (CAD):
Up to 300,000 shares: $.01/share
Options Pricing:
Monthly contract volume:
up to 10,000: $1.25/contract
10,001-50,000: $1.15/contract
50,001-100,000: $1.05/contract
over 100,000: $1.00/contract
Interactive Brokers Trading Platforms
IBKR offers investors up to seven trading platforms, depending on your experience level and trading activity.
IBKR Global Trader (Mobile):
Client Portal (Web)
IBKR Mobile (Mobile)
Trader Workstation (TWS) (Desktop) (Recommended for day traders)
IBKR APIs (Desktop)
IBKR EventTrader (Web)
Impact (Mobile)
Trader Workstation (TWS) is IBKR's flagship online trading platform. In addition to trading stocks, you can access options, futures, spot currencies, cryptocurrencies, warrants, combinations, U.S. Spot Gold, hedge funds, and more. Trader Workstation also gives you access to more tools than most online trading platforms. Here are some of the tools you can access:
Strategy Builder
Write Options Tool
Option Analytics
Option Chain and Combo Builder
Advanced Algos
Bracket Orders
Book Trader
Allocation Order Tool
FX Trader (for forex trading)
Split the Spread
ComboTrader
SpreadTrader
Advanced Charts
Technical Analysis
For more information, read our full Interactive Brokers Review.
Day Trading Pros and Cons
Day trading is not for the faint of heart, and it's certainly not the best approach for most investors. Successful day traders possess advanced market and trading knowledge and are able to put in the time that's required to stay on top of daily market movements. And many can separate their emotions from their investment decisions, something that most investors struggle to do. With that in mind, here is my list of day trading pros and cons:
Pros:
High earning potential
Work for yourself
See instant results
Few overhead costs
Easy to get started
Cons:
High level of risk (you could lose all of your money)
You need a lot of money to get started
Margin trading is especially high-risk
You need to monitor the markets constantly
High level of research required
Summary of the Best Day Trading Platforms
The best day trading platform is the one that's right for you. Aside from the free stock trades, Wealthsimple Trade is the platform that's least geared for day trading. QTrade is solid, but Questrade does the big things a little bit better.
TD Direct Investing has the most powerful trading platform, but its pricing is the highest of the brokers on our list. That said, if you can qualify for their free Advanced Dashboard, you'll save money over Questrade, which charges $89.95/month for their Market Data Package, which is mandatory to qualify for their active trader pricing.
Interactive Brokers is the best for global and forex trading. Like TD, they have a powerful trading platform, but it might be too complex for some investors.