Prepaid Crypto Credit Cards in Canada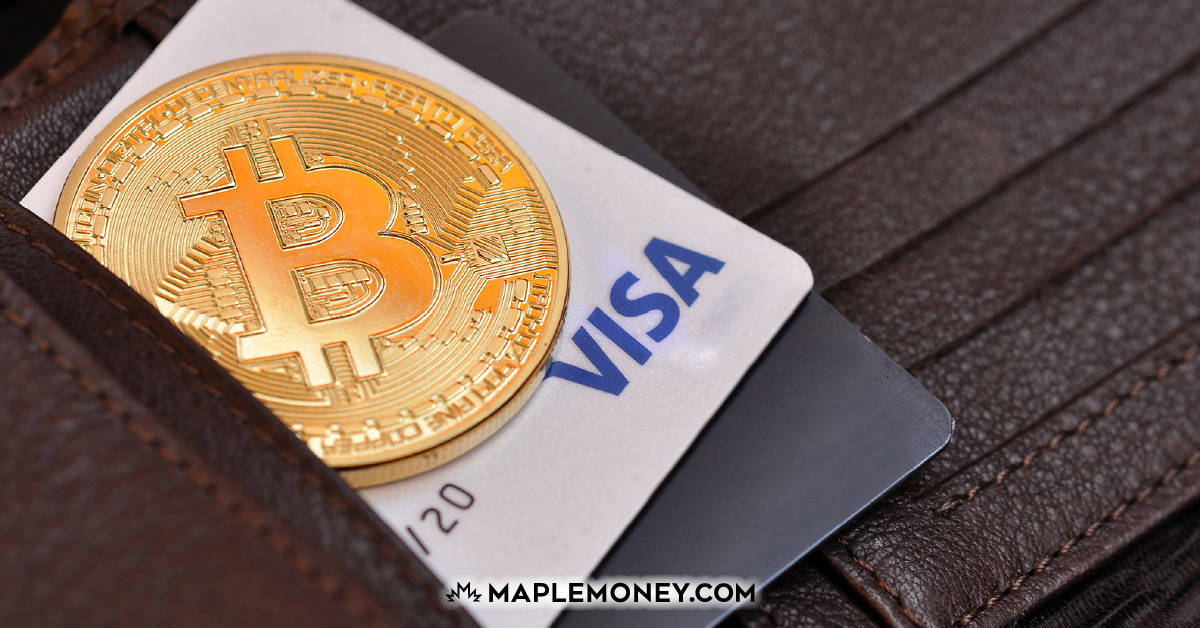 There is no shortage of rewards credit cards in Canada, but did you know that you can earn rewards on prepaid cards, too? In this article, I cover five prepaid credit cards that let you convert your cryptocurrency to cash. A few of them let you earn crypto rewards, too. I'll explain how each card works, pricing, pros and cons, and more.
What Are Crypto Credit Cards?
Crypto credit cards are often issued by cryptocurrency exchanges. They allow you to convert your cryptocurrencies to Canadian dollars and spend with the convenience of a Visa or Mastercard. Many crypto credit cards offer crypto rewards when you spend.
The crypto credit cards featured in this article are prepaid credit cards. Instead of being assigned a credit limit, you must load a balance onto the card before you can use it. You can spend up to the amount that has been deposited onto the card. The concept is similar to that of a Mastercard or Visa debit card.
There are several benefits of prepaid credit cards. First, you get the convenience of a traditional credit card without a credit check. And in the case of crypto credit cards, it's an easy way to convert your crypto assets to fiat currency and use it for your daily spending.
Here are five crypto credit cards, and two crypto-related cards, from Mogo and Wealthsimple. Note that I haven't singled out a "Best Card" – they are sorted alphabetically.
Bitvo Cash Card
Bitvo is a Calgary-based cryptocurrency exchange. For $10, Bitvo customers can order a Bitvo Cash Card, which allows them to make day-to-day purchases using Canadian dollars from their Bitvo trading account.
The daily spending limit is $500 ($3500 weekly), and the transaction fees are significant: you'll pay a 1% fee for every withdrawal from your Bitvo account, plus $1 for every card purchase (in-store or online) or ATM withdrawal.
There are four ways to fund your Bitvo account: Interac e-Transfer, bank wire transfer ($10,000 minimum), Canada Post Load (from a Canada Post office), or a crypto transfer from your private wallet. Account deposits are free.
If you are holding crypto in your account, you'll need to convert it to Canadian dollars (sell) prior to loading it onto your Bitvo Cash Card.
Pros:
Instant access to Canadian dollars in your Bitvo account
It's free to deposit funds
The card can be used anywhere Visa is accepted
Cons:
Transaction fees are high (not ideal for regular spending)
Daily spending is limited to $500
Coincards Prepaid Visa
Coincards is not a crypto exchange. According to the Coincards website, the company's vision is "to help the cryptocurrency industry spend their cryptocurrencies at all retailers, using those retailers existing Gift Card infrastructure." Here's how it works.
You can use Coincards to exchange many different crypto coins for electronic and physical gift cards. Coincards lists the accepted coins and their current exchange rates on their website. Accepted coins include Bitcoin, Ethereum, Dash, Tether, Dai, Monero, Litecoin, Dogecoin, and more.
You may be wondering where the prepaid Visa card comes in. Among the hundreds of gift cards you can purchase Coincards is a prepaid Visa gift card. You can load between $25-$250 dollars on the card, and spend it in any store that accepts Visa gift cards. The card is not reloadable, and there is an activation fee, as per the schedule below:
Card Amount Activation Fee + Coincards Convenience Fee
$25 $3.95 + 5%
$50 $4.95 + 5%
$100 $5.95 + 5%
$200 $6.95 + 5%
$250 $7.50 + 5%
Pros:
There are no fees once the card is activated (except for foreign transactions)
The card can be used everywhere Visa is accepted
Use multiple crypto coins to purchase the card
Cons:
The card is not reloadable
Physical card must be shipped to your address
No cash access (ATM withdrawals or cash advances)
Crypto.com Prepaid Visa
Crypto.com's prepaid Visa Card is Canada's most popular crypto credit card, and it's also the most well-developed platform, with no fewer than five prepaid Visa cards in the Crypto.com lineup. There are no annual fees on any of the cards, and you can earn CRO rewards with every card except for the entry-level Midnight Blue Card.
What are CRO Rewards? CRO stands for Cronos, Crypto.com's native crypto token. In order to qualify for any of the crypto visa cards, you need to stake CRO tokens for a period of 180 days. The amount of CRO you need to purchase will depend on the crypto debit card you want to apply for.
For example, the mid-tier Royal Indigo and Jade Green cards require a CRO stake of $4000 USD. The top-tier Obsidian card requires a CRO stake of $400,000 USD.
CRO rewards range from zero to 5% on the Obsidian card. You can also earn discounts or monthly subscription rebates for the following services: Spotify, Netflix, Amazon Prime, Expedia, Airbnb, and LoungeKey (private airport lounge access).
For a full list of features and benefits, check out the crypto debit cards, at Crypto.com.
Pros:
No annual fees
Five cards to choose from
Generous rewards program on mid-and top-tier cards.
Spend wherever Visa is accepted.
High top-up limit of $25,000 USD
Cons:
Must stake CRO tokens to qualify for 4 of 5 cards
Long 180-day waiting period
Netcoins Prepaid Mastercard
Netcoins is a popular cryptocurrency exchange, based in Vancouver. They've partnered with Koho to provide their customers with a prepaid Mastercard, which offers Bitcoin rewards when they spend. There is no annual fee, and cardholders can opt for a physical or digital card, which can be linked to Apple Pay, Google Pay, or Samsung Pay.
Here's how the card works:
Choose between a physical or digital card.
Use the card to spend funds from the CAD dollar balance of your Netcoins account.
Top up your card balance by depositing CAD dollars into your Netcoins account.
Use your Netcoins card to make purchases in-store or online.
Earn 1% Bitcoin on all purchases.
Note, card rewards are earned in Canadian dollars, but Netcoins converts the amount into Bitcoin once each month and deposits it into your Netcoins account.
Pros:
No annual fee
All cardholders earn 1% Bitcoin rewards
Can be used wherever Mastercard is accepted
Physical or digital card option
Cons:
Must be a Netcoins customer
Not available to residents of Quebec
Shakepay
Launched in 2015, Shakepay is a Montreal-based cryptocurrency exchange for trading Bitcoin and Ethereum. Shakepay doesn't charge deposit or withdrawal fees, or commission fees on trades (they make money on the spread).
Shakepay offers customers a prepaid Visa card that, unlike traditional credit cards, earns Bitcoin rewards when you spend. They even have an introductory bonus of an additional 1% on your first $5000 purchases.
Your Bitcoin rewards will be stored in your Shakepay account, or you can transfer them to a digital wallet at any time. There are no annual fees for the crypto card, and because it's a prepaid Visa, no credit check is required. The card is available to Shakepay customers in all Canadian provinces and territories. To learn more about Shakepay, read our full review.
Pros:
No annual fee
No credit check required
1% Bitcoin rewards when you spend
Available in all Canadian provinces and territories
Cons:
Shakepay only deals with Bitcoin and Ethereum
Crypto Rewards Cards
The following cards are not crypto rewards cards, but they are indirectly linked to cryptocurrency in their own ways. Let's take a closer look at what each card has to offer.
Mogo Platinum Prepaid Visa Card
Mogo is a fintech company that offers a prepaid Visa card, credit score tracking, commission free-trading, and other services.
Every time you spend with your MogoCard prepaid Visa, Mogo will plant a tree to offset the carbon that's created by the Bitcoin that Mogo holds on it's platform. Cryptocurrency mining requires large amounts of electricity, the production of which is harmful to the environment.
When you use your MogoCard, you are reducing crypto's carbon footprint, and that's a good thing. The MogoCard is free to use, and there are no monthly or annual fees. You can add money to the card for free, and Mogo provides cardholders with monthly credit score monitoring.
For more information on Mogo, check out our full Mogo Review.
Wealthsimple Cash Card
Wealthsimple is Canada's largest robo-advisor platform, and they also operate a cryptocurrency exchange, called Wealthsimple Crypto.
The Wealthsimple Cash Card is a prepaid rewards Mastercard that you can use anywhere Mastercard is accepted. The card rewards users with 1% cash back, but you have the option to automatically invest your rewards into stock or crypto. Another option is to have your rewards deposited into the cash portion of your Wealthsimple Crypto account.
There is no annual fee for the card, and because it's a prepaid card, no credit check is required. According to Wealthsimple, you can sign up within 3 minutes, add your card to your mobile wallet and start using it immediately. Learn more about Wealthsimple in our full review.
The Bottom Line on Crypto Credit Cards
Canadians love their rewards credit cards. But not everyone is interested in cash back or travel rewards. That's why it's great that the opportunity exists to earn crypto rewards. And the crypto cards featured in this article are prepaid credit cards, so they are accessible to most Canadian adults.
Remember that there is no "best" card – learn more about each card, then choose the one that meets your needs. My only caution is to be mindful of the limits and the fees of each card before you make a final decision.