When you start collecting coupons, it can be overwhelming. Those tiny slips of paper can clutter up your home fast and if they aren't organized properly, it's likely that you will miss out on some fantastic savings at the store.
By making a plan to organize your coupons when you receive them, you will be better able to find any coupon you need when you're out shopping.
Following are a few ways you can organize your coupons.
How to Organize Your Coupons
Envelopes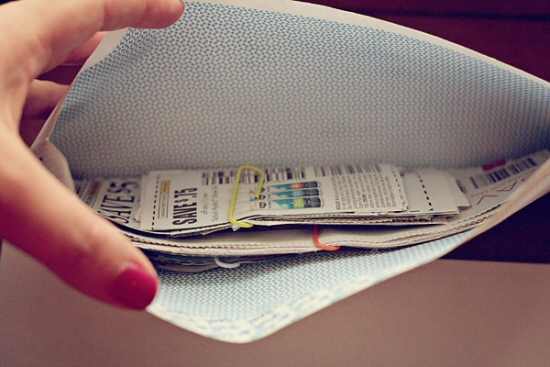 For a beginner, I would definitely suggest using envelopes to organize your coupons. Just write the categories (food, pets, health, beauty, etc.) on them and stuff your coupons inside.
You will probably need to swap out your envelopes for new ones every so often, because they can easily get torn when you cart them and your coupons around with you each time you go shopping.
Accordion File
This is another great coupon organization system for beginners. These small accordion files have tabs for you to use to separate your coupons, making finding what you need very easy. Just clip your coupons and put them in their respective categories.
You will often find these organizing tools at many dollar stores and they are usually of good quality. However, if you can't seem to find any at your local dollar store, many big box stores such as Walmart will carry these as well (though, they may be a bit bigger – and more expensive).
Coupon Binder
Coupon binders are great for more advanced couponers/extreme couponers. Simply purchase a large binder, some divider tabs and trading card protector sheets and put them all together.
Divide your coupons by category, date or alphabetically with your divider tabs and place your coupons in the protector sheets and then into the binder.
It's also a good idea to carry a pair of scissors, pen & pencil and calculator with you when you shop. Click here for my tutorial on creating a coupon binder.
How to Sort Your Coupons
Alphabetically: Set up your divider tabs or envelopes from A-Z and file your coupons away. If you have a good idea of all the coupons you currently have, this may be a good system for you.
By Expiry Date: Check the expiry dates on all of your coupons. Write down the dates on your divider tabs or envelopes and sort your coupons this way. This is a great system for ensuring you use up your coupons before they expire.
By Category: Sorting by category is the easiest, especially if you have a lot of coupons and can't always remember each and every one that you have. The most common categories are: health, beauty, pets, baby/kids, food, household, and miscellaneous. You could always go more in depth and do something like this: food – cereal, food – meat, food – fruits & vegetables, beauty – makeup, beauty – hair care, etc.
Once you've created your categories, put your coupons into the categories that they belong to.
Note: Make sure that you go through your coupons and weed out the expired ones at least once every month. This makes the task less overwhelming, and also prevents embarrassment at the store if you try to use an expired coupon.
Do I really have to carry my coupons with me everywhere I go?
I do suggest bringing your coupons with you if you think it's possible that you may end up in a store that accepts them. A good tip is to keep your coupons in your purse or car so that if you do make that unexpected trip, your coupons are right there and you won't miss out on a good deal (if you come across one).
Some people suggest only carrying the coupons you plan on using when you go shopping. This idea is fine and dandy, but I suggest carrying all of your coupons in case of unexpected deals. Many stores have items on sale that are not advertised in their flyers. You can also find clearance racks at most stores and you would miss out on those deals if you didn't have all of your coupons with you.
Organizing your coupons (and keeping them organized) is very important if you want to be able to save as much money as possible at the grocery store.
When new coupons come in, try to file them right away. If this is not possible, set aside a bit of time once every week to clip and file your coupons. If you wait any longer than that, it's possible that you will have an abundance of coupons to organize and could get overwhelmed.