40 Kids Healthy Lunch Ideas
Filling lunch boxes with a variety of healthy lunches is my September resolution. Martha Stewart I am not, but I want quick, realistic and healthy lunches when I am packing those lunch boxes for my kids.
The above image shows how colour makes food irresistable. I have never packed a rainbow lunch, but a colour-themed lunch is always a hit. This year, to conquer a lunch-making rut, I am going to pick one colour (based on whatever is on hand) and pack away.
Colourful Ideas
Red Day: strawberries, red peppers, pepperoni on crackers, cherry tomatoes and licorice
Green Day: green peppers, kiwi/grapes, cucumbers sandwiches, green jujubes
Orange Day: orange slices, carrots, vegetable soup and cheddar cheese
Lunch Presentation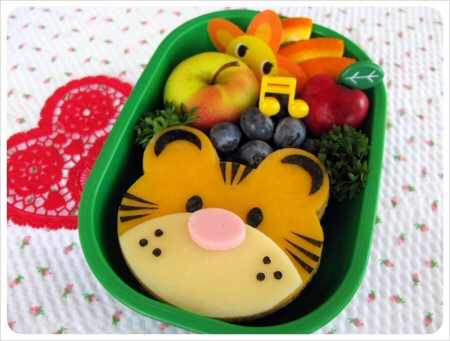 I recently wrote about my favourite PlanetBox containers. They have revolutionized my lunch making because the boys feel like they're eating a picnic – and who doesn't love a picnic?
They are an "investment" product on the upper end, but after using them earlier this year, they still look new. I recommend any bento style box or picnic box that eliminates the hunt for matching lids and containers in the morning. Even if you don't line up the cucumbers and cut the sandwiches into flower shapes, the entire spread is appealing.
Here is a list of healthy lunch ideas, by category, to get you started:
Sandwiches or Alternatives
Bagels – my kids love them toasted with butter or cream cheese.
Cheese wrapped with deli meat – pickle on the side.
Pita – fill with tuna or chicken salad or chopped lettuce and deli meat.
Cheese and crackers – we make our own "lunchables" (much more economical).
Leftover grilled chicken – cut into strips for a wrap (side note: my boys despise whole wheat tortilla wraps, but we just recently discovered a big hit called "Ancient Grains" by Dempsters).
Ham cubes with chunks of cheese and crackers on the side.
Mini-buns – perfect for little hands, with cold cuts or jam.
Perogies – quick to make and easy to store in a thermos, sour cream for dipping.
Chicken nuggets – heat and keep warm in a thermos, with plum sauce or ketchup.
Warmed-up leftovers of their favourite dinners – if it was a hit last night, why not try it again?
Rolled deli meat and rolled cheese with melba toast on the side.
Muffins – perfect project for kids the night before – carrot/blueberry/oatmeal – eater's choice!
Tea biscuits with jam on the side.
Grated cheese, raisins and crackers.
Pasta – toss with olive oil and favourite pizza toppings, sprinkle with Parmesan cheese.
Chili in a thermos with a biscuit or bun.
Homemade soup with crackers on the side.
Leftover waffles or French toast with syrup for dipping.
Fruit Ideas
Oranges (quartered) are less messy to eat since kids can hold onto the peels.
Watermelon chunks – more appealing without the rind.
A mini fruit salad with leftover fruit.
Canned pears/peaches/pineapple – send with minimal liquid to prevent spilling.
Apples, sliced and sprinkled with lemon juice to keep it looking fresh.
Seedless grapes – red or green.
Cantalope, scooped into balls (somehow they taste better when it's in an interesting shape).
Honeydew melon, thinly sliced (or scooped into balls!).
Veggie Ideas
Cucumbers – mini cucumbers are yummy, but pricey, so I peel and chop the English or field cucumbers into small bites.
Carrot sticks – easy!
Broccoli and cauliflower "trees" with dip.
Peppers – green peppers might be a tough sell but red/yellow/orange peppers are a big hit around here – and they make the lunch colourful.
Grape tomatoes.
Lunch Ideas for Treats
This is one area where the kids will have a myriad of suggestions for me, without me having to ask. I'm learning to balance the proportion of the treat and to find good alternatives that are also healthy or at least healthy-ish (yes, I'm sure that is a word).
One inspiring resource is Deceptively Delicious. Jessica Seinfeld presents recipes with healthy ingredients that cannot be detected by little ones (for example, cauliflower brownies – awesome!).
Yogurt
Applesauce with cinnamon
Homemade pudding
Cookies
Muffins
Raisins
Dried cranberries
Banana chips
Trail mix
Pretzels
Post a list of lunch ideas on the fridge for quick reference, and for involving children as much as possible. Kids can see what inspires them for the day. They can also fill water bottles and chop fruit/veggies with child-safe tools.
Many hands do make for light work. Also, I find that the kids are much more likely to eat whatever they have helped to pack.
Having compiled this list of healthy lunch ideas, to me, it seems possible to fill those lunch boxes with healthy options (with variety). Maybe we can make it until June after all…
What are your favourite healthy lunch ideas?