What Is Socially Responsible Investing and How Does it Work?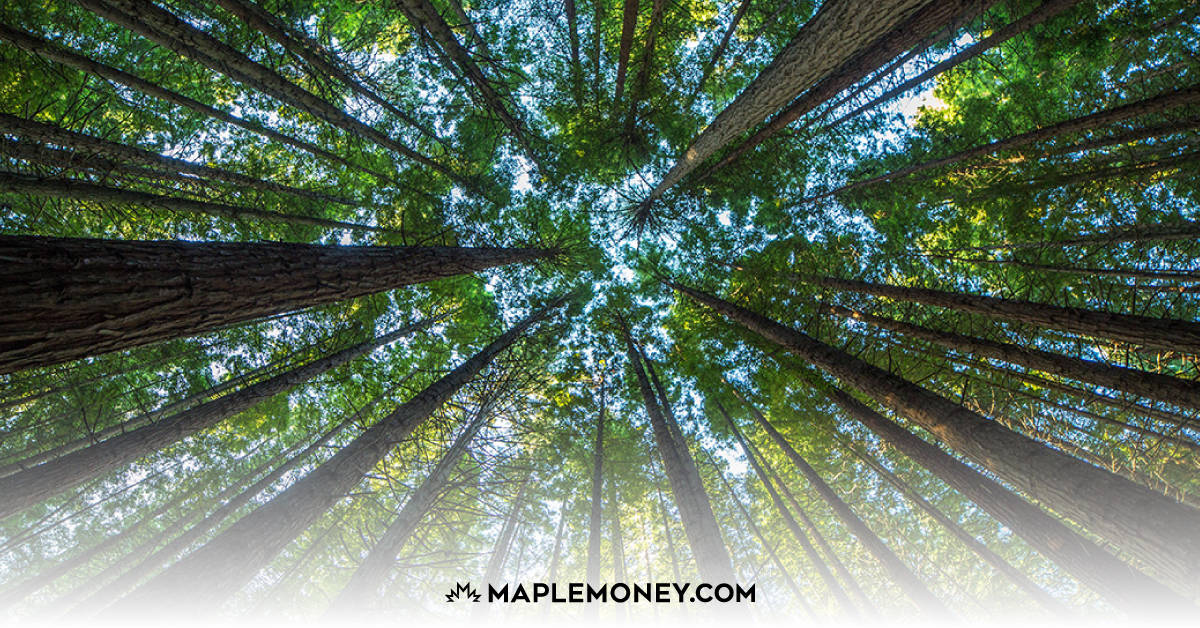 Today, more and more consumers are investing in a way that aligns with their values. While the trend can be found across all age categories, millennials, more specifically investors in their 30's, are leading the way. What's made the move towards socially responsible investing (SRI) easier is the fact that there are more high-quality investments than ever to choose from. In this article, we'll take a closer look at SRI investing – what it looks like in 2020, and a few places you can go to start building a sustainable investment portfolio.
What Is Socially Responsible Investing?
Socially Responsible Investing (SRI), otherwise known as sustainable or ethical investing, is an investment strategy that places an emphasis on companies that are making a positive contribution to society in a social, or environmental sense. Increasingly, consumers like to know they are supporting companies that "do good" in the world.
SRI portfolios tend to avoid stocks in the so-called 'sin sectors', such as alcohol, tobacco, gambling, pornography or weapons manufacturing. And while it's true that SRI investing has been around for many years, the options haven't always been that great. There's never been a shortage of investors who want to do good, but they also need to see a solid return on their investment. Before we take a closer look at what's available today, let's examine the primary focuses of sustainable investing.
Sustainable Investing – Areas of Focus
Sustainable investing, or SRI, places a focus on three primary issues: Environmental, Social, and Governance. By studying how individual companies perform in these three areas, you can get a pretty good idea as to whether or not they will act in a way that aligns with your values. From there, you can decide if it's an investment you want to make.
Environmental Issues
How a company fares on environmental issues has to do with how they work to mitigate their own impact on the environment. Does the company make an effort to reduce their carbon emissions, and minimize the amount of air and water pollution they produce? How do they manage waste, and are they striving to become more energy efficient?
Social Issues
If you're researching for social responsibility, consider the way in which a company impacts society. Do they actively promote product and consumer safety? Do they encourage diversity across a variety of communities? You can research things like employee engagement and wellness, and consider whether a company strives to maintain the highest labour standards. In other words, are they treating people fairly, by putting customers and employees ahead of even bigger profits.
Governance Issues
This is the final consideration of sustainable investing. Governance is all about how a company is run. It includes everything from the makeup of the board of directors, to the types of compensation being provided to executives. You can also look to see if political contributions or lobbying the company engages in matches with your own personal values.
Sustainable Investing Tools
To build an SRI portfolio, you can do your own research using any number of online sources. Among of the best I've seen are the sustainable investing tools offered by Scotia iTrade. You start by establishing your own sustainable investment profile using an interactive wheel that enables you to move individual sliders in accordance with the importance you ascribe to various issues.
From there, they offer a number of educational videos on SRI investing. When you open an account with Scotia iTrade, you'll have access to the environmental, social, governance (ESG) scores for companies across more than 20 industries. Yes, there are analytics firms that study how various corporations fare when it comes to social responsibility. They then compile the data, and assign a rank to each company. With Scotia iTrade, you can actually access full ESG reports for an individual company. To give you an idea, Home Depot and Microsoft would be examples of large, well-known companies with high ESG scores.
Socially Responsible Investing in Canada
As I mentioned earlier, Canadians have access to not only more SRI investments than ever before, but higher quality ones as well. Below, I've compiled a list of a few places you can go to build an SRI portfolio. The list is not exhaustive, so feel free to do your own research, but it is nonetheless a great starting point.
SRI Investing With a Robo Advisor
One of the easiest and lowest cost ways to build an SRI portfolio is through a robo advisor. You can open your account online and get investing right away. And because robo advisors invest your money in ultra low-cost ETF portfolios, you avoid the high MERs that are commonplace with actively traded mutual funds. The following companies are just a few of the robo advisors I recommend.
Wealthsimple SRI ETFs
Over the past few years, Wealthsimple has become synonymous with robo-advising in Canada. They also have you covered when it comes to socially responsible investing. Their SRI ETF portfolios prioritize low carbon, cleantech, affordable housing bonds, and more.
Wealthsimple has also created an investment portfolio that aligns with Islamic investing principles. In other words, any company making a profit from products like alcohol, tobacco, gambling, pork, or weapons manufacturing, is excluded from consideration for the Wealthsimple Halal portfolio. For more information, or to open an account, visit Wealthsimple today.
ModernAdvisor SRI ETFs
ModernAdvisor is another Canadian robo-advisor offering sustainable investing solutions for Canadians. When you open an account with ModernAdvisor, you can choose from no fewer than 7 ETF portfolios. To use an example, one of the funds included is the IShares MSCI EM ESG Optimized ETF, an exchange traded fund that invests in companies in emerging markets like China and Brazil.
According to the fund outline, any company that's involved in tobacco, or controversial weapons is excluded from the portfolio. All companies must have a minimum ESG rating of B to be included in this ETF. As far as cost goes, ModernAdvisor SRI ETFs maintain very low MERs, but they are on average, about .20% higher than regular ETF portfolios. This is to be expected, and it may be a small price to pay to ensure your investment is sustainable.
Wealthbar – RoboAdvising With a Cleantech Focus
Unlike Wealthsimple and ModernAdvisor, WealthBar doesn't offer a full portfolio of SRI ETFs. They do, however, make it possible for investors to hold a portion of their portfolio in an ETF that focuses on cleantech, specifically the Invesco Cleantech Portfolio ETF (PZD). Cleantech companies are ones that focus on renewable energy, clean water, while reducing harmful impact on the environment.
SRI Investing With a Discount Brokerage
If robo-advisors aren't your thing, and you prefer to maintain a higher degree of control over your investments, you may wish to open a discount brokerage account for your SRI investment portfolio. Thankfully, you'll have no shortage of options, as online brokers give you the ability to choose from thousands of individual stocks worldwide. They also have access to many of the same ETFs that you'll get with a robo-advisor. Many online brokers, like Scotia iTrade, who I previously mentioned, offer top-flight market research tools that will help you in your quest to build a sustainable investment portfolio.
Questrade
Questrade is a fantastic option for SRI investing. Not only do they offer dedicated SRI ETFs via their Questwealth Portfolios, but they don't charge any commission fees on the purchase of ETFs, making sustainable investing even more affordable. Not only that, but they don't charge any annual fees to hold a registered investment account, such as an RRSP, or a TFSA. This way, you build a sustainable investment portfolio in just about any type of account.
If you prefer to hold individual stocks in your SRI portfolio, you can do that too, inside your Questrade account. Questrade offers very cheap stock trades, with fees starting as low as $4.95/trade. You can open a Questrade account from the comfort of your living room, and start investing almost immediately.
Scotia iTrade
How could I not include Scotia iTrade on this list, after all the nice things I said earlier about their sustainable investment tools. Scotia iTrade offers a big bank discount brokerage. As a result, you'll get a robust trading platform, and highly advanced market research tools. Scotiabank customers also have the advantage of linking their iTrade portfolio to their primary bank accounts, making for easy access.
When it comes to sustainability, Scotia iTrade partners with an independent research company, Sustainalytics. They assign ESG performance ratings to more than 1200 companies on the Toronto Stock Exchange, as well as the Russell 1000 index, and provide that information to Scotia iTrade. The big difference between a brokerage like iTrade, and Questrade, is in the fees.
Unless you're a very active trader, it will be more expensive to invest with iTrade. However, if you wish to build an SRI investment portfolio using individual stocks, their in-depth research tools may be tough to pass up.
A Caution for Ethical Investors
Unlike the 'old days', socially responsible investments are proving that doing good can also result in good performance. After all, it only makes sense that companies that value their customers, their employees, and the world around them tend to be well managed, and profitable. On a recent episode of the MapleMoney Show podcast, I discussed this very topic with sustainable investment expert, Tim Nash.
That said, it's important to remember that ethical investing is but one factor to consider when building an investment portfolio. You need to make sure that you don't stray from other key investing principles in your pursuit to invest with your conscience. For example, always make sure that you stay within your recommended asset allocation, risk tolerance, and seek out low-cost investments wherever possible. By maintaining the right balance, you can do a lot of good.