TD Direct Investing Review: Premium Stock Trading for a Price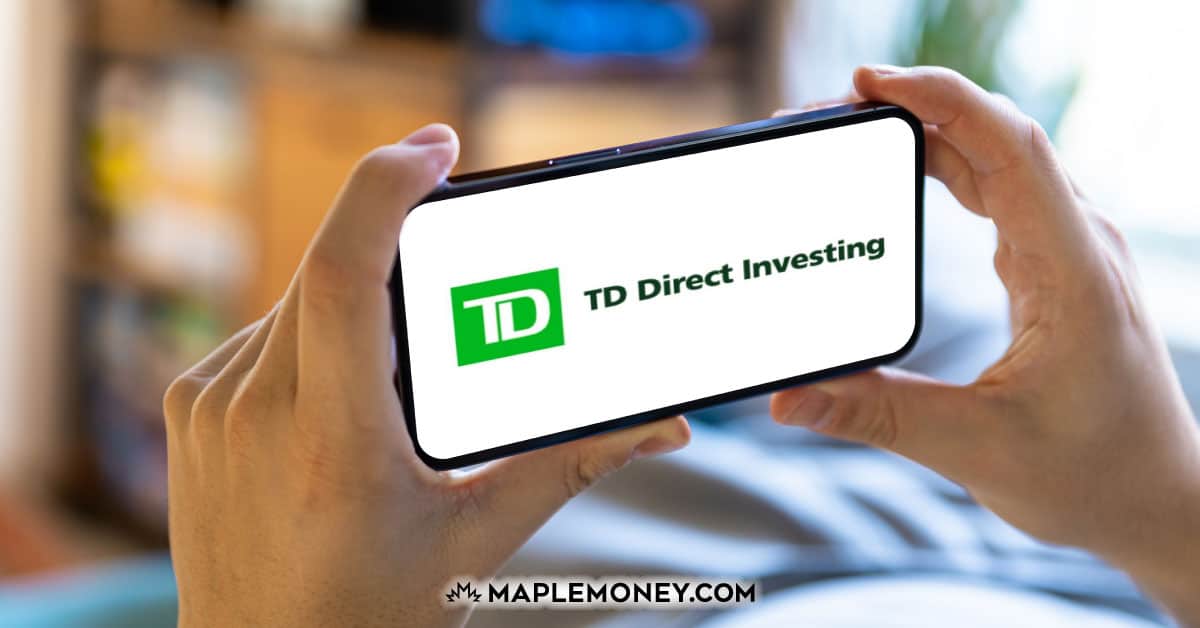 Formerly known as TD Waterhouse, TD Direct Investing is the self-directed investing arm of TD Bank Financial Group, one of North America's largest financial institutions. TD Direct Investing has built a solid reputation on its powerful trading platform, in-depth market research tools, and supportive customer service.
It's Canada's largest discount brokerage, but bigger doesn't always mean better. In this TD Direct Investing Review, I'll let you know how they compare to other top online brokers, like RBC Direct Investing, Questrade, and Wealthsimple Trade.
TD Direct Investing Account Types
If you need any type of investment trading account, TD Direct Investing has you covered. Here is a list of the different account types that are available:
Non-registered accounts (cash trading)
Life Income Funds (LIF)
Registered Disability Savings Plan (RDSP)
Margin accounts (borrowed funds)
Getting Started with TD Direct Investing
There are three ways to open an account with TD Direct Investing: apply online, over the phone, or by booking an appointment with a TD Advisor at your nearest TD Bank branch location. No matter how you open your account, be prepared to provide the necessary information, like government-issued ID, and other personal details, including questions related to your investment holdings and experience.
TD Direct Investing Trading Fees & Account Pricing
Like most of the big bank brokerages, TD Direct Investing doesn't lead when it comes to fees. Stock and ETF trades are $9.95, with reduced pricing available for active traders. While $10 trades were once standard, recent trends towards no-free trading haves put TDs pricing on the high side. I've listed the most common fees below, or you can view the full Commission Schedule here.
Commission-Free Investments
Mutual Funds No trading fees (short term redemption fee may apply)
Fixed Income Fee is included in the quoted price (Bonds, GICs, T-Bills, etc.)
IPOs & New Issues No commission fees apply
Stocks and ETF Trading Fees
Standard Trade $9.99 per trade (Canadian & U.S. Stocks)
Active Traders $7.00 per trade (Canadian & U.S. Stocks/150+ trades per quarter)
Options Trading Fees
Canadian & U.S. Options $9.99 + $1.25/contract per trade
Active traders $7.00 + $1.25/contract per trade (150+ trades per quarter)
Transfer Fee $150.00 (full or partial transfer to a different financial institution)
Account Withdrawal Fee $100.00 (full withdrawal, excludes RDSP, RESP, TFSA, RRIF)
Partial Withdrawal Fee $25.00 (RRSP, Basic RRSP, LIRA, LRSP)
Account Maintenance Fee $25.00/ per quarter*
*Fee waived for a household account balance of $15,000 or greater.
TD Direct Investing Trading Platforms
The trading experience is where TD Direct Investing shines. They offer three main trading platforms, and each one is excellent at what it's meant for. Let's take a closer look, starting with WebBroker.
WebBroker
WebBroker is the most popular platform used by TDs self-directed investors. Basic trading functions are easy to navigate, so it's not intimidating for beginners. At the same time, it has most of the features that experienced traders are looking for, including the following:
WebBroker Features
Customizable homepage
Advanced orders i.e., stop, stop limit, trailing stops, trailing stop limit, contingent
Multi-leg option strategies
Multiple market data research tools
Built-in reporting from Morningstar and TD Economics
Access to investor education resources, including webinars and videos
TD app
If you're on the move, you can access most TD WebBroker functions from the TD Mobile app, which works seamlessly with WebBroker. Execute stocks and options trades, advanced orders, customize your dashboard, and get access to high-level reporting, all from your mobile device.
TD app Features
Customizable dashboard
Advanced orders i.e., stop, stop limit, trailing stops, trailing stop limit, contingent
Multi-leg option strategies
High-level research, including fundamentals and dynamic charting
Set price and volume automated alerts
Access to investor education resources, including webinars and videos
The app is available in 4 languages (English, French, Traditional and Simplified Chinese)
Advanced Dashboard
Active traders looking to get the most from their trading experience will appreciate the TD Direct Investing Advanced Dashboard. In addition to stock and options trading, you benefit from full platform customization and real-time streaming data. TD adds in company financial statements, earnings analysis, ratio analysis, and analyst ratings when it comes to research.
Advanced Dashboard Features
Real-time streaming Level I and Level II market data
Advanced orders, including conditional orders, multi-leg option strategies, and option rollovers
Full customization of trading and application settings
Equity Scanner for technical analysis
Trade Finder to locate single and multi-leg option strategies
Market movers to track the most active equities and options
Customizable charting
Earnings Analyzer
Option Chains
Analyst evaluations provided by Thomson Reuters
TD Direct Investing vs. Wealthsimple Trade
Wealthsimple Trade is the no-fee mobile-only stock trading app from Wealthsimple, Canada's largest robo-advisor. The platforms are not much alike and cater to different audiences. Unlike TD, Wealthsimple Trade offers free stock and ETF trades, so there really isn't any competition when it comes to price.
On the flip side, the TD trading platform is far more robust, and its market research capabilities are superior. If you're new to trading, and you don't mind using your phone to buy and sell stock, then Wealthsimple Trade is probably your best bet. If you're an experienced trader who is willing to pay a premium for advanced functionality and overall experience, then TD Direct Investing is the way to go.
TD Direct Investing Vs. Questrade
Here at MapleMoney, Questrade has been our #1 online brokerage for a few years now. We love the combination of low-fee trades (especially no-fee ETFs) and a robust trading platform via desktop or mobile. While Questrade's platform is not as in-depth as TD Direct Investing, it's good enough to keep its place above TD Direct Investing in our rankings.
TD Direct Investing vs. RBC Direct Investing
You may be wondering how TD Direct investing compares to another big bank brokerage. RBC Direct Investing is another big online broker. With trading fees at $9.95 ($6.95 for active traders), the fees are pretty much equal. Like TD, RBC Direct Investing also has a good reputation for being responsive and helpful. On the downside, their trading platform isn't as visually appealing, (their mobile app feels outdated) and their market research tools aren't as in-depth as what TD brings to the table.
TD Direct Investing Pros and Cons
Millions of TD Direct Investing customers can't be wrong – there's a lot to like about TD Direct Investing. You pay a premium to get the best platforms, a tonne of functionality, not to mention endless tools for advanced traders, including class-leading market research data. The question is, is the extra cost to invest worth it to you? To help you decide, here's a list of TD Direct Investing pros and cons:
Pros
Excellent trading platform
Class-leading market research
Slick mobile app with excellent trading capability
Over 9 different account types
No-fee mutual funds
TD Goal Assist
Live Customer Support between 7 AM and 6 PM EST, Mon-Fri
Customers can access a FREE live masterclass every Friday at 4 PM EST
Cons
High standard commission fee ($9.99)
No free ETFs
High account fees
What Is TD Goal Assist?
TD Goal Assist offers novice traders a simple, mobile trading experience that lets you set financial goals and measure your progress as you invest. It's not a robo-advisor in that you choose the investments you want to purchase, but the goal planning aspect is a great feature for anyone who would like assistance in building an investment strategy. One of the perks of Goal Assist is that there are no commission fees when you purchase TD ETFs.
Goal Assist Features
Choose from 3 account types – cash trading, TFSA, RRSP
Use the mobile app to set a savings goal and plan your strategy
Buy and sell stocks for $9.99/trade
Commission-free TD ETFs, including One-Click TD ETF portfolios
Goal Assist is a great way for someone to test the waters with self-directed investing, before embarking on the full DIY experience with a TD Direct Investing account. I love the free TD ETFs, as it remains the only way to get free ETFs through TD. Speaking of TD ETFs, let's take a closer look at what's available.
TD ETFs
Did you know? TD Asset Management has a full range of exchange-traded funds (ETFs). You can achieve portfolio diversification at a very low cost, with MERs that range from as low as 0.04% to .65%.
The TD ETF family includes everything from broad market index funds, like the TD Canadian Equity Index ETF(TTP), to all-in-one ETF fund portfolios, such as the TD One-Click Aggressive ETF Portfolio (TOCA).
TDs ETFs can be purchased through WebBroker at the standard trading fee of $9.99. Or, you can buy them inside a TD Goal Assist Account for free.
Is TD Direct Investing Right for Me?
There you have it, my TD Direct Investing Review. Overall, it's the best of the big bank online brokerages due to its feature-rich trading platforms and advanced market research tools. But it falls short of our top-rated non-bank online brokers, like Questrade and Virtual Brokers, when it comes to fees.
Deciding if TD Direct Investing is right for you comes down to what's most important. Would you rather pay a bit more for a premium experience, or are low fees the primary concern? If TD Bank is your primary financial institution, it's another reason to like TD Direct Investing – it's a one-stop-shop. I do like the concept of Goal Assist for beginner and novice investors, especially the free TD ETFs. I hope the same will apply to all ETFs in the future.