Why less is more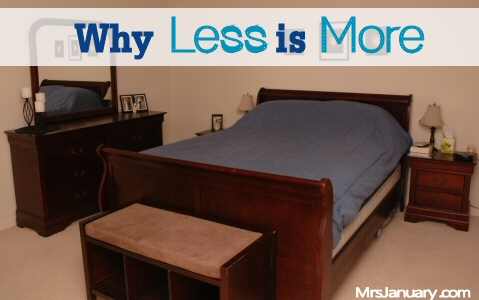 So many people seem to think that stuff = happiness and I'm here to tell you that that isn't necessarily true – most of the time.
Sure, it's great to have fancy clothing, high-quality furniture, overflowing bins of toys for our kids.. but really, when is it ever enough? When will we finally realize that it isn't stuff that creates happiness – people do?
I'm a firm believer in the quote "less is more". I really do believe that statement – it really rings true for so many situations.
Following is a list of items I find fit into the "less is more" category.
Clothing
The less clothing that you own, the more often you will wear things that actually fit and look good on you. It's also much faster to get dressed in the morning when your clothing options are limited.
Also, let's not forget how much less laundry you will have to do if you own less clothing!
Furniture
You don't need to fill up every single empty space in your home. An empty spot here and there is actually quite refreshing. The more furniture you cram into your home, the more likely it is to look cluttered – and the more surfaces you will have to clean.
Housing
Although the average Canadian family size has gone down in the last 30 years, the size of family homes has grown. In the early 1970s, homes were an average size of 1,500 square feet. Today, with less family in one home, homes are an average size of 2,500 square feet.
Why are we buying bigger homes for smaller families? With bigger homes come bigger hydro and heating bills. Not to mention all of the extra cleanings that need to be done in a larger home.
Portion sizes (food)
Have you noticed how large the portion sizes are when you go out to eat at a local restaurant? The plates are often packed full of food. Yummy food, sure, but do we really need as much food as they put on our plate? Of course not.
Scale back your portion sizes and you will see so many benefits. Weight loss, more energy, and of course, smaller grocery bills (when you make meals at home). Just because you might have food left on your plate, doesn't mean you need to finish it.
Possessions
The fewer things you own, the fewer things you need to take care of. Don't try to impress others with how much stuff you have. Impress them with your personality!
Fewer possessions mean less time cleaning, fixing, and picking up those items. Use that time for something more rewarding, like spending time with your family and friends.
You can improve your life in so many ways by simply eliminating the excess that's holding you back from being happy and successful.
Analyze everything in your life and determine the things that you can get rid of to make your life better.
"Less is more" is not just a quote from an 1855 poem, it's a way of life.
How do you feel about the term "less is more"? Do you agree?