Best Food Delivery Driver Apps: Which Service Pays the Most in Canada?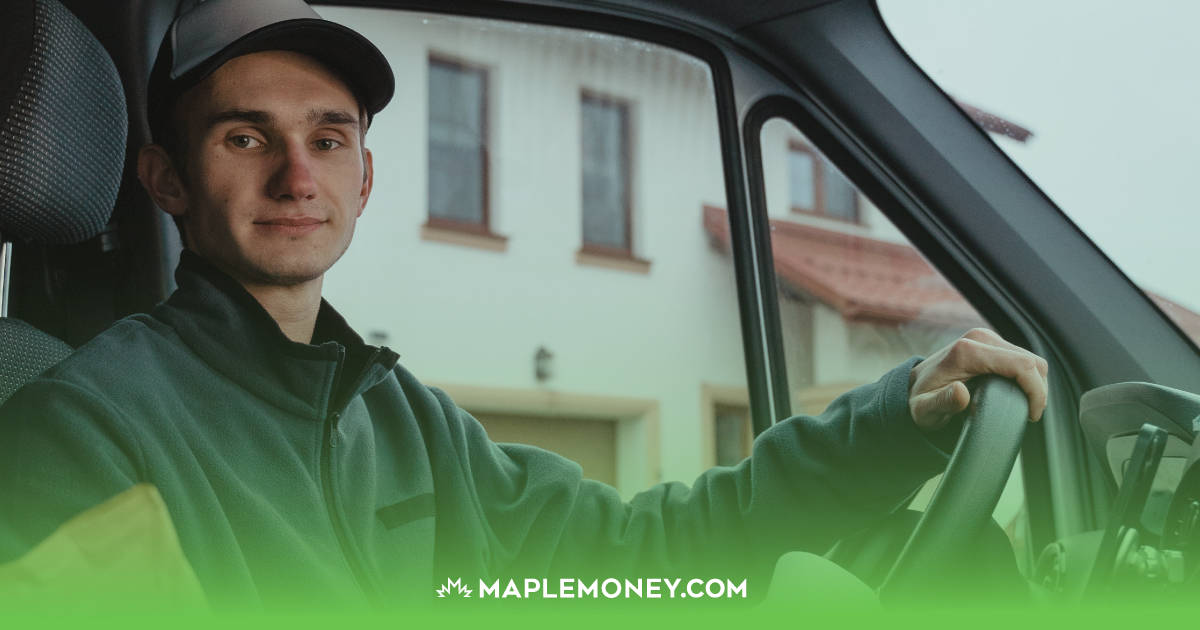 In today's fast-paced world, food delivery apps have become a go-to for many Canadians who want to enjoy their favourite restaurant meals at home or have their groceries delivered. As a result, the demand for delivery drivers has skyrocketed, offering many opportunities for those seeking a side hustle with extra income and flexible hours.
With several food delivery jobs available in Canada, how do you know which platform is the right one for you? From DoorDash to SkipTheDishes to Uber Eats, each delivery platform has its own features and benefits.
To help you find the right app to kick off your food delivery side hustle, I've compiled a list of the best food delivery driver apps in Canada. I'll let you know what you can expect when it comes to driver requirements, pay, and other considerations.
Best Delivery Driver Apps To Make Money
Here are some of the best food delivery services in the market for delivery drivers. I'll cover each one in more detail below and share some pros and cons of working with a food delivery service.
Skip The Dishes
Uber Eats
DoorDash
Instacart
Note that other apps like GrubHub, Shipt Shopper, Amazon Flex, and Favor Delivery provide various delivery services that cater to different needs, making them excellent options to explore for those interested in branching out.
These are just a few of the best food delivery apps out there for you to consider. Remember, finding the one that matches your preferences, available time, and location will ensure you get the most out of your food delivery gig.
1. SkipTheDishes
Markets Served: Serves more than 100 Canadian cities and 30,000 restaurants nationwide.
Founded in Saskatoon in 2012, SkipTheDishes has become one of the most popular food delivery apps in Canada, catering to millions of customers and partnering with thousands of restaurants nationwide. As a delivery driver for SkipTheDishes, you can earn extra money while working shifts that fit your schedule.
Here's what you need to know about working as a driver with SkipTheDishes:
What It Pays
The average pay for SkipTheDishes delivery drivers ranges from $15 to $25 per hour. How much you make will depend on your location, delivery distance, and time spent waiting for orders. Remember that your pay will fluctuate as you are working as an independent contractor. However, SkipTheDishes pays weekly, making it easier for you to budget and manage your cash flow.
To increase your earnings, consider delivering during peak hours when demand is higher. In addition, you may receive tips from customers, which adds to the overall compensation.
Driver Requirements
To start delivering food with SkipTheDishes, you must meet their specific driver requirements. These include:
A valid driver's license
Auto insurance
A reliable vehicle
A clean background check
A Smartphone, data plan, and phone charger
Thermal bags
You'll also need to manage your taxes, expenses, and insurance as an independent contractor. For this reason, it's good to be familiar with Canadian laws and regulations surrounding independent contractors to ensure you operate legally and safely while working for SkipTheDishes. Before getting started, SkipTheDishes will require you to provide documentation showing that you are legally able to work in Canada, such as a Canadian passport or work permit.
According to the SkipTheDishes website, they do have a bicycle delivery program, but it's only available in select markets.
Overall, becoming a delivery driver with SkipTheDishes offers both flexibility and the opportunity to earn decent money. Make sure you understand the pay structure, driver requirements, and responsibilities of being an independent contractor before jumping on board.
2. Uber Eats
Markets Served: Over 250 Canadian cities across 8 provinces and 60,000 restaurants. Not yet available in Prince Edward Island or Newfoundland & Labrador.
Uber Eats is a popular U.S. food delivery app that is also widely available in Canada. Like SkipTheDishes, Uber Eats pays delivery drivers to deliver food, mostly from restaurants.
What It Pays
As an Uber Eats driver, your average pay will vary depending on location, time of day, and demand. However, it is possible to earn around $20 per hour. Remember that this average may be higher or lower depending on your circumstances. Uber Eats also pays its drivers weekly, which is convenient for managing your finances.
Driver Requirements
Before you can become an Uber Eats driver, there are specific requirements you must meet.
Be at least 21 years old
Valid driver's license
Reliable vehicle
Valid auto insurance
Proof of work eligibility (Canadian passport, work permit, etc.)
Background screening, including a criminal record check.
You must be 21 years of age or older to deliver for Uber Eats. You also need a valid driver's license and a reliable vehicle. Your vehicle must be a 1990 model year or newer and have either 2 or 4 doors.
You must have valid auto insurance coverage. This is not only a requirement for Uber Eats but also for your protection in case of any accidents or incidents while delivering food.
If you meet these requirements, you're well on your way to becoming an Uber Eats driver and making money on your schedule.
3. DoorDash
Markets Served: Over 80 Canadian cities, serving more than 40,000 businesses, including restaurants, grocery stores, alcohol retailers, flower shops, pet stores, and more.
What It Pays
At DoorDash, you can earn money as a delivery driver based on the number of deliveries you complete, the distance of your deliveries, and the tips you receive from your customers. DoorDash delivery drivers are referred to as Dashers. The average pay for a Dasher ranges from $15 to $25 per hour.
Like Uber Eats, DoorDash pays its drivers weekly so that you can have a consistent cash flow. To maximize your earnings, try to work in a busy location during peak hours. You'll make more money working in a city like Toronto than you will in a small rural community.
Remember that as a delivery driver for DoorDash, your earnings will vary depending on location, peak hours, and experience. It's essential to remain attentive to these factors to maximize your earnings.
Driver Requirements
To become a DoorDash driver, you must meet the following requirements:
A valid driver's license
Proper auto insurance coverage that complies with Canadian regulations.
A satisfactory background check
A Reliable vehicle
In addition to providing a valid driver's license and auto insurance coverage, your background check must include evidence of a clean driving record. One advantage to delivering for DoorDash is that they are flexible in the type of vehicle you can use. Depending on the location, you can deliver using a car, bicycle, motorcycle, or scooter. Contact DoorDash for full vehicle requirements.
4. Instacart
Markets Served: Over 5,000 cities across Canada and the US.
Instacart is a popular grocery delivery service and services some of Canada's largest grocery store chains, including Walmart and Real Canadian Superstore.
What's unique about Instacart, besides their focus on grocery delivery, is that they offer two roles for those looking to make money delivering food: The Full-Service Shopper and In-Store Shopper. Let's take a closer look at what each role pays and the various requirements of delivering for Instacart.
What It Pays
As a Full-Service Shopper, you can expect to earn an average pay of around $25 per hour, depending on location and demand. Full-Service Shoppers are paid weekly, so you'll have a steady income stream. On the other hand, In-Store Shoppers earn a fixed hourly wage, usually between $13 and $15 per hour.
Driver Requirements
Must be 18 years of age
Eligible to work in Canada
Have a bank account
Have reliable access to a vehicle
Have a smartphone
Be able to lift over 18kg without assistance or accommodation
Full-service shoppers manage the entire customer order. This includes shopping for the items in-store and then delivering them to the customer. In-store shoppers don't deliver groceries. They remain in-store and shop for items and ensure they are ready for pickup or delivery. Because of the limited range of duties for the in-store shopper, they receive less compensation, on average.
Full-Service Shoppers need a valid driver's license and auto insurance to hit the road. They also must pass a background check to work with Instacart. The role requires a reliable vehicle.
In-Store Shoppers don't need a driver's license or auto insurance, but they still need to pass a background check. Regardless of the role you choose, Instacart allows you the flexibility and freedom of being your own boss while working on a schedule that fits your life.
How To Become a Food Delivery Driver
Here's a step-by-step guide to help you get started in the world of food delivery and grocery delivery services:
Choose a food delivery app: Sign up for a popular food delivery app such as Uber Eats, DoorDash, or Instacart. Consider factors like commission rates, customer base, and the size of the delivery area when making your choice.
Check the driver requirements: Make sure you meet the minimum age, driving experience, and vehicle type requirements. Most food delivery apps require you to be between 18 and 21 years of age and have a valid driver's license. You'll also need a reliable vehicle, insurance, and an up-to-date insurance registration.
Submit your application: Apply online by providing your personal and vehicle information. This may include a background check and a review of your driving history.
Get the necessary equipment: Once you're approved, you'll need a smartphone with a data plan to access the delivery app. Depending on the delivery app, you may also want to invest in an insulated food delivery bag to keep meals at the right temperature during transport.
Familiarize yourself with the job: Learn how the food delivery driver app works, including how to accept orders, navigate to pick-up locations, and handle customer interactions. Don't hesitate to contact the app's support team if you have questions.
Pick your hours: One of the benefits of working in the gig economy is the ability to set your schedule. But remember that peak hours, like lunch and dinner times, can help you earn more money.
Maximize your earnings: To make the most of your delivery job, learn the most efficient routes, stack multiple delivery requests when possible, and focus on providing excellent customer service to earn tips.
By following these steps, you can successfully enter the world of food delivery and enjoy the flexibility of being your own boss. Remember always to prioritize safety on the road, maintain a positive attitude, and have fun while delivering food to hungry customers.
Pros and Cons of Food Delivery Gigs
Working as a delivery driver allows you to enjoy a flexible schedule and make extra money while participating in the gig economy. But there are some drawbacks, too. Here's my list of food delivery pros and cons:
Pros
Flexible Schedule: You can choose when and where you want to work, making it easier to fit your deliveries around other commitments, such as a full-time job or studies.
Plenty of Options: Depending on where you live, you will have several food delivery apps to choose from, each with its own unique features and benefits.
Promotes an Active Lifestyle: Food delivery gigs often require you to be on the go, including walking or cycling, for your deliveries. This can be a great way to stay physically active while earning money.
Cons
Variable Earnings: Although some food delivery gigs can pay up to $25/hour, your earnings may vary depending on factors such as order volume, location, and app-specific fees. Therefore, it's essential to manage your expectations realistically and not rely on gig income as a consistent source of funds.
Vehicle Expenses: If you use your car for deliveries, it's crucial to consider the expenses associated with your vehicle, such as gas, maintenance, and depreciation. These expenses can cut into your earnings, so keep a close eye on your vehicle's operating cost.
Limited Job Security: As a delivery driver in the gig economy, you may not have access to the same job security and benefits, such as paid time off or medical insurance, as those with traditional full-time jobs.
To summarize, food delivery gigs can be appealing due to their flexibility and potential for a diverse range of opportunities. However, you need to consider the variable earnings, vehicle expenses, and limited job security that come with this line of work. The gig economy can be an excellent source of extra income, but you have to decide whether the pros outweigh the cons for your particular situation.
Food Delivery Driver FAQs
What are the top-paying delivery apps for drivers?
Instacart is known for being one of the best-paying food delivery apps, but the other options on our list can also pay well for a gig economy job. It's hard to say which one pays the most because it depends so much on where you live and what hours you decide to work. As a delivery driver, you have a lot of control over your earnings.
It's always a good idea to research and compare the pay rates and reviews of different delivery apps before deciding on which one to work for.
Is DoorDash worth it?
DoorDash can be an excellent option for drivers looking to make extra money. It's a popular delivery app with a vast user base, even in Canada. However, always consider factors like the cost of your vehicle's wear and tear, fuel expenses, and any additional expenses related to the job. Ultimately, whether DoorDash is worth it for you depends on your circumstances and preferences.
Who pays more, Uber Eats or DoorDash?
The answer may vary depending on your location and other factors like the number of deliveries available. Some sources suggest that Uber Eats and DoorDash pay similar rates, but you need to consider factors like tips, the availability of deliveries, and any promotions or bonuses offered by each app. You may want to experiment with both platforms if you need help determining which one will work best for you and maximize your earnings.
Are Food Delivery Apps Worth It?
In today's fast-paced world, food delivery apps like the ones on our list have gained popularity both for customers and delivery drivers. The biggest benefits of becoming a food delivery driver are flexibility and earning potential. While there are certainly better-paying jobs out there, when it comes to flexible side hustles, food delivery can provide a more consistent income than many options, like paid survey sites or dog-walking.
My best advice is to do your research before signing up. Find out which apps are the most popular in the city where you live. Check to ensure you meet the requirements, and calculate your overhead expenses to determine how much you need to make to earn a profit. The last thing you want is to be working and not getting ahead.