What Is A Mortgage Broker? How to Get A Better Mortgage Without your Bank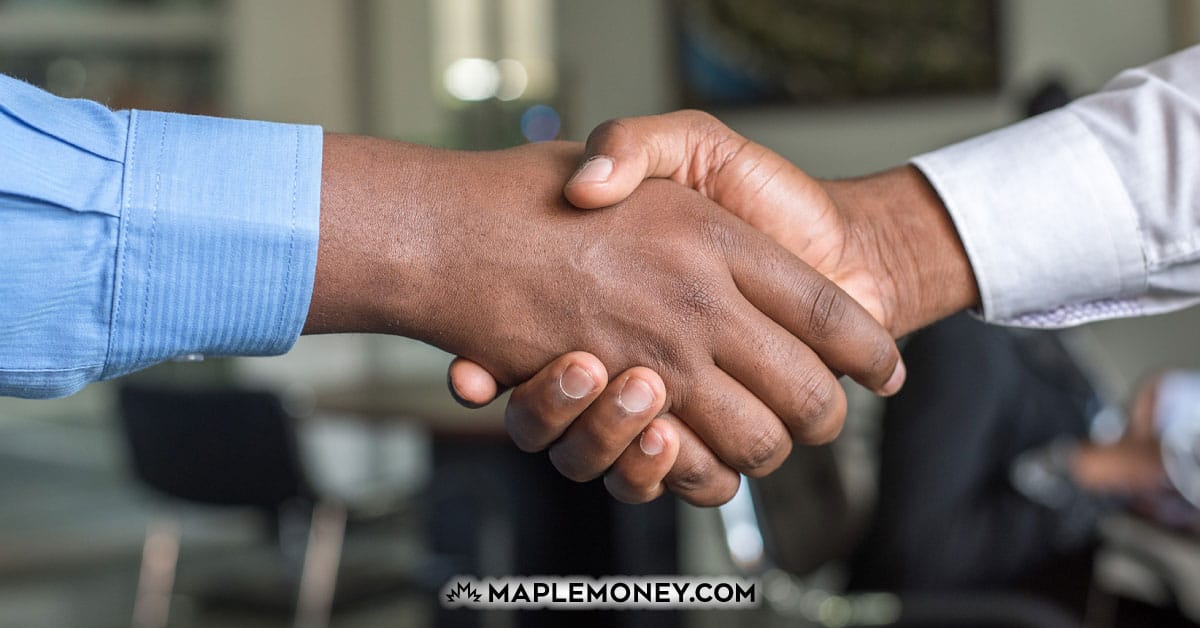 It seems that in Canada, mortgage brokers have never been more popular with home buyers. According to CMHC, almost half of Canadian homebuyers got their mortgage through a mortgage broker in 2019. Interestingly, almost 70% of them say their number one reason for doing so was to get a better interest rate, yet there are several reasons that it may be in your best interest to deal with a broker next time you need a mortgage.
What Is A Mortgage Broker?
A mortgage broker acts as an intermediary between individual borrowers and mortgage lenders. They do not work for the lender, rather they have access to dozens of mortgage lenders, and will place your mortgage with the lender best suited to your needs. Mortgage brokers may see a mortgage application through from start to finish, other times they will hand the document signing off to the lender once they've secured your mortgage approval.
How Do Mortgage Brokers Get Paid?
Unlike a mortgage advisor at a bank, mortgage brokers are not paid a salary. Instead, they collect a finder's fee (commission) from the mortgage lender when they successfully place a mortgage with them. The amount of compensation varies between lenders and is also dependent on the size of a mortgage and the length of the term. As the borrower, this is a fact you need to be aware of, as it could influence the direction a mortgage broker steers you. The best way to ensure you're getting the right mortgage for you is to stay informed, ask lots of questions. In other words, make sure you're being presented with all of the options.
In some situations, a mortgage broker may request compensation directly from the client. Often, this happens when the mortgage application is very complex and will require significantly more time to complete than normal.
Why Use A Mortgage Broker?
There are a number of reasons you may want to consider going with a mortgage broker for your next mortgage. Let's take a closer look at ways in which a mortgage broker may be a preferred option versus a bank or credit union.
Best Chance At the Lower Rate
Perhaps the biggest benefit to dealing with a broker is the fact that they have access to dozens of mortgage lenders. This greatly increases your chances of getting the best possible rate at any given time. It's true that if your credit is in good shape, you're going to be offered a competitive rate at your own bank, but if you can shave even 20 or 30 basis points off of that rate by going through a broker, why not explore that option.
Better for Rebuilding Credit
If you find yourself in a situation where you're having to rebuild your credit, for whatever reason, you're probably better off dealing with a broker. The reason? Canada's big banks are also the country's most conservative lenders. In other words, they are less willing to shoulder the risk of lending to individuals with severely poor credit. Because a mortgage broker deals with dozens of lenders, they can present your application to companies who are willing to lend to those with less than stellar credit. Your interest rate is bound to be higher, but that's a price you may need to pay. The bottom line is that if you have poor credit, your chances of getting a mortgage are higher with a broker.
Convenience
There's a convenience factor in dealing with a mortgage broker. While banks are making strides in this department, chances are you still need to visit a brick and mortar location at least a couple of times to submit your application and sign mortgage documents. Mortgage brokers have offices, but they're also very mobile. This gives them the ability to meet you wherever and whenever you want, and they can manage quite a bit via email or telephone. An ambitious broker doesn't limit themselves to traditional office hours, meaning that they're often available during evenings or weekends, if needed.
Not Influenced by Product
A mortgage broker isn't paid any more to sell you a HELOC versus a mortgage, which means that they should be steering you towards the right mortgage product. Your bank, on the other hand, may recommend a product that's more profitable to them, but may not be the most suitable type of mortgage for you. I'm not saying that your bank advisor will steer you wrong, but the potential exists for that to happen.
Drawbacks of Dealing with A Mortgage Broker
In my experience, there are a couple of drawbacks to dealing with a mortgage broker, which I'll cover here. The good news is that any potential disadvantages can usually be eliminated with some due diligence. Remember that no matter who is helping you with your mortgage, it's important that you educate yourself in the process. After all, it's your money that's being spent.
Interest Rate Isn't Everything
Getting the best interest rate on your mortgage is important, but it isn't everything. All mortgages have important features, the details of which vary between lenders, such as prepayment options, or how penalties are calculated. Because a mortgage broker deals with dozens of lenders, it's difficult for them to have in-depth knowledge of every company's policies.
If your broker isn't thorough in explaining all of the mortgage details to you, you could be left with an unpleasant surprise down the road. When discussing your mortgage options with your broker, make sure to ask about more than just the interest rate, and that you understand the features of any mortgage before you sign the agreement.
Servicing Your Mortgage
Regardless of what they tell you, a broker's involvement in your mortgage ends as soon as the mortgage is activated. The broker essentially hands the reins over to the lender you'll be dealing with. If you haven't established a relationship with your lender, this can be problematic as you may feel in the dark when it comes to servicing your mortgage. You'll have questions from time to time, and your broker will have moved on to their next customer. This is why I always recommend that borrowers establish their own relationship with the actual mortgage lender, so they have someone they can contact when they have questions or wish to make changes.
Mortgage Brokers vs. Banks
Just because you've decided to hire a mortgage broker doesn't mean that you're ditching your bank. In fact, most brokers have very close relationships with banks because that's where the majority of broker-fulfilled mortgages end up. If you end up going with a broker, make sure that you establish contact with the lender, so that you know who to go to when you have questions.
Of course, many people still prefer to deal directly with their bank for their mortgage, at least half of Canadians in fact. One advantage that bank advisors have is that they only have to be experts on their own mortgage products and features. This means that in most cases, you should receive very high quality, accurate advice.
With banks, you can choose to meet in person with a mortgage advisor, or if you prefer the convenience of working with someone remotely, most have a team of mobile mortgage specialists who can complete your mortgage on your terms.
Mortgage Broker vs. Mortgage Specialist
As I mentioned above, many mortgage lenders have their own team of mortgage specialists, licensed professionals whose sole job is to help customers obtain mortgage financing. So while you could say that a mortgage broker is a mortgage specialist, a mortgage specialist is not necessarily a mortgage broker. A mortgage specialist working for one of the big banks is only able to complete mortgages with the institution they work for. They are not able to shop your mortgage around to dozens of lenders.
Should I Get My Mortgage Through A Broker?
When my wife and I bought our current home, we went through a mortgage broker who was able to set us up with a STEP mortgage from Scotiabank. If you're planning to buy a home in the near future or you have a mortgage that's maturing, I highly recommend that you start your search with the help of a mortgage broker. Not only is it convenient, but it's also the fastest and easiest way to find out what interest rates are currently available.
Even if you end up going directly through the mortgage lender, at least you'll be fully informed. If you feel like your credit history may get in the way of you getting a mortgage through your primary bank, it's another reason to reach out to a mortgage broker. Regardless of your situation, you can feel confident that an experienced broker has the connections and the expertise to help you find the right mortgage.