The Best Things to Do in New York
The Big Apple. Gotham. The Capital Of The World. The City That Never Sleeps. The nicknames abound, but is there a more iconic city in the world than New York? Recently, I had a chance to get away, by spending a few days exploring America's largest city.
I've got to say, it lived up to its billing. We were able to visit a number of famous attractions, take in a Broadway show, and join the audience for a taping of "Live with Ryan & Kelly" (more on that later). When it comes to showbiz, does it get any more New York than that?
Our trip was so much fun, I thought I'd share some of the best things to do in New York, in case you decide to visit. Of course, since this is a personal finance site, I've also included some money-saving ideas, to make your trip to New York more affordable.
How to Get Event Tickets in New York City
Broadway Direct Lottery
If you're interested in catching one of the many Broadway shows while in New York City, you could try your luck with the Broadway Direct Lottery. I was able to get tickets to see Glenn Close in Sunset Blvd this way, and had a blast. Keep in mind, if you win tickets via the lottery, you have to act quick. We only had 60 minutes to pay for our seats once we were notified, but they were only $55 each.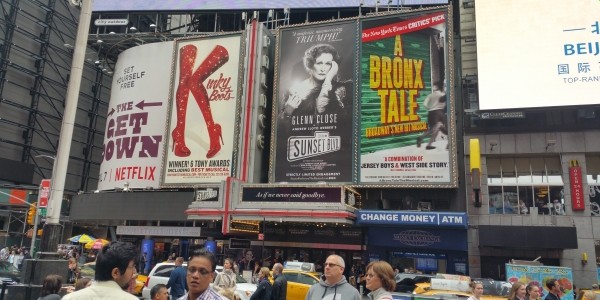 1iota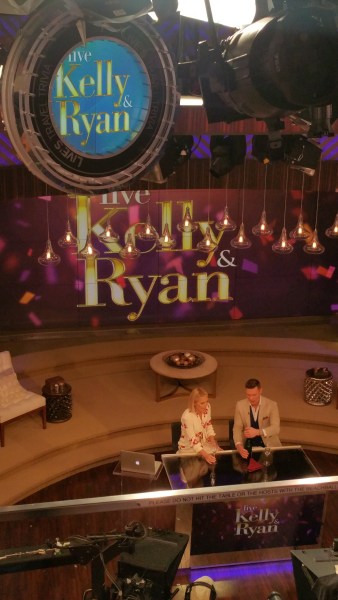 If you're looking for fun things to do in New York City, 1iota is a great place to start. This is the website I used to snag free audience tickets to "Live with Ryan & Kelly". 1iota is a company that connects fans with the events that they want to see; live TV shows, movie screenings, red carpet premieres, that kind of thing. It's completely free to sign up and join a waiting list for tickets to the events you want to attend. In my case, I was chosen from the waiting list two days prior to the show.
New York CityPASS
CityPASS is a fantastic way to save money on attractions in a growing number of cities, and it's how I was able to take in so many sites during our visit to New York. We toured the Empire State Building, the Rockefeller Centre, the Met Museum, as well as other attractions with CityPASS, at a fraction of what it would have cost had we purchased tickets directly from the venues themselves.
Using CityPASS also made it easier to plan activities in advance, enabling us to make the best use of our time in New York. Here's how it works.
There are two options to choose from. The full CityPASS gives you 3 preset tickets, to see the Empire State Building, the American Museum Of Natural History, and the Met Museum. You can then select from two options on each of 3 remaining attractions. Currently, the price for a full pass is $184 for adults, and $151 for children, which supposedly saves travellers up to 42% off of the regular price of tickets.
You can also purchase the C3 Pass, which allows you to choose from any three sites, without having to decide in advance. The price of a C3 pass is $118 for adults, and $88 for kids. This is perfect if you're only in New York for a couple of days, but want to make the most of your visit.
You can use CityPASS in other places as well. It's now available in 14 different cities in the US and Canada, with Orlando being the newest addition.
Top Things to Do in New York
Now that I've covered off some of the best ways to access events and attractions in New York, here's a list of some of my favourite things to do. I've included many of the attractions I took in during my trip, and a few are based on other recommendations.
Empire State Building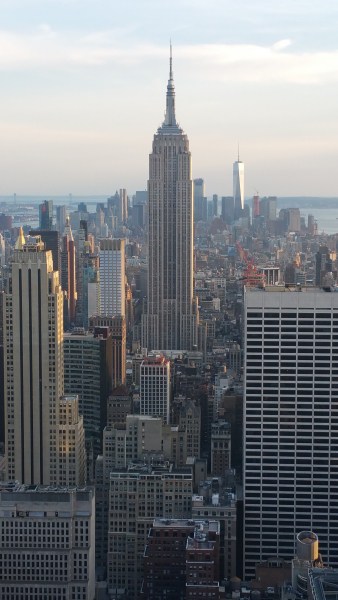 Using my CityPASS, I took in the Empire State Building. If you love breathtaking views, this is a must-see. There are viewing galleries inside the building, but my favourite was the open-air observatory on the 102nd floor. On a clear day, you can see 5 different states using the high-powered binoculars that are available. If you're hungry, there are a couple of nice restaurants located in the building, as well as a Starbucks. One other tip – if you're willing to visit during non-peak hours, either before 10 AM, or after 10 PM, you'll avoid the long lineups.
Top of the Rock
Not far from Central Park, Top of The Rock is another landmark offering breathtaking views of the city. Atop the iconic Rockefeller Centre, the open-air observatory offers visitors a panoramic view of New York. Similar to the Empire State Building, there are plenty of coffee shops and restaurants on site. You can even enhance your visit with a 75-minute guided tour of the Rockefeller Centre.
The Met Museum
If you're looking for a top-notch cultural experience, I highly recommend visiting the Metropolitan Museum Of Art, otherwise known as The Met. I spent an afternoon there and really enjoyed it. The Met features over 2 million works of art, including paintings and sculptures from all corners of the world. If you're a music fan, you'll love one of their current exhibits, titled "Play It Loud – The Instruments Of Rock & Roll", which includes more than 130 instruments from landmark artists and recordings.
Circle Line Cruises
Sometimes, the best way to see big cities like New York and Chicago, is from the water. I took a Circle Line Cruise while in New York, and it made for a unique vantage point from which to explore the city. If you download the Circle Line Skyline Navigator App prior to departing, it will actually narrate the tour for you as you pass by the many famous sites you'll see along the way.
I should note, outside food and beverages are not permitted onboard, so plan ahead. It won't come as a surprise that there are dining options on the boat, including a cafe and full bar. There are several different cruises available, which pass by different landmarks, so it's best to look online first, and choose the one that looks most interesting to you.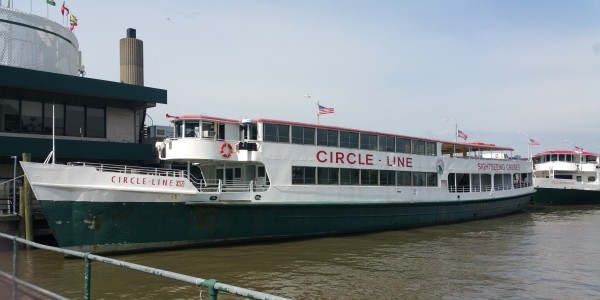 9/11 Memorial
No one can ever forget the tragic events of September 11th, 2001. In the years since, the grounds on which the World Trade Centre once stood have become a memorial to the victims of 9/11. There is a lot to see here, including two large reflecting pools, with waterfalls, where the names of the more than 3,000 people who lost their lives are inscribed. A museum on site displays many items that were recovered from the rubble. You can sign up for a guided tour of the memorial by booking tickets in advance. The price is $20/person.
Intrepid Sea, Air & Space Museum
This museum features one of the finest collections of aircraft you'll see anywhere. According to their website, all five of the U.S. armed forces are represented. You can get up close to a Bell 47 helicopter, a Concorde supersonic jet, and the Space Shuttle Enterprise. You can even board a submarine. While I didn't have my kids with me when I visited, Intrepid would make for a fantastic experience for the entire family. Keep in mind, the guided tours, and the various flight simulators do cost extra.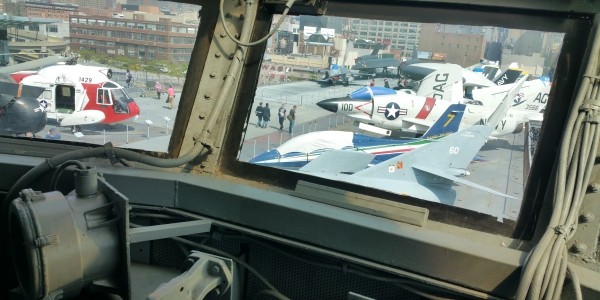 Statue of Liberty & Ellis Island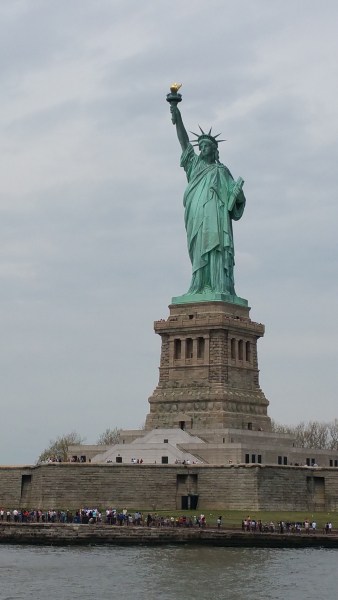 You'll need some time to get the most out of this experience, but if you can fit it into your schedule, you won't be disappointed. You can board a ferry in Battery Park, which will take you to the Statue of Liberty, and nearby Ellis Island.
Each location includes an audio tour. At 151 feet tall, the Statue Of Liberty is impressive up close. If you decide to climb the inside to the crown, you'll have your work cut out for you. It's almost 400 steps, without air conditioning. A tour of Ellis Island will have you retracing the steps taken by millions of new Americans. Between 1892 and 1954, more than 12 million immigrants entered America here. Apparently, the family history of more than 40 percent of Americans runs through Ellis Island. It makes for a very surreal experience.
The earlier you arrive for the tour, the better. In fact, if you board the ferry after 2 PM, you won't be able to visit both sites, there just isn't enough time. It's recommended that you set aside up to 7 hours to visit both islands, so it really is a full-day activity.
Guggenheim Museum
I missed this on my visit to New York (you can't see everything), but it is a very popular stop for tourists and New Yorkers alike. Somewhat of an architectural marvel, the modern art museum is as impressive for its structure, as it is for what's inside.
Tours are offered in five languages, and include guides as well as multimedia tours. If you're a bit pressed for time, you can walk the Frank Lloyd Wright designed ramps and view the museums permanent art collection in under 1 hour.
Free Things to Do in New York
While most of the attractions I've mentioned cost money, there are an endless number of free things to do in NYC. For example, tourists and New Yorkers alike, love to take strolls over the famed Brooklyn Bridge, and we found time to walk through Central Park.
You can also visit a number of free museums, such as the Museum of Natural History, and the Brooklyn Museum. In fact, the Guggenheim Museum offers free entrance to guests on select dates.
New York City has no shortage of guided walking tours available, many of which charge a pay-what-you-wish fee. But if you don't mind exploring on your own, a self-directed walking tour doesn't cost a cent. I found this website, which features guides to over 40 self-directed walking tours.
Saving Money Using Credit Card Rewards
For my trip to New York, my flight was paid for with my credit card reward points through BMO Rewards. I'm a big believer in taking advantage of credit card reward programs.
As long as you are careful to pay off your balance in full every month, there's so much money that can be saved, and with so many options out there, it's easy to find a credit card rewards program that fits your lifestyle.
If travel is your thing, the BMO World Elite Mastercard is definitely one you should consider. In fact, it's the card I use for the majority of my spending.
There are a few reasons I love this card. For starters, a point multiplier earns you 3 reward points for every dollar spent on travel, dining, and entertainment. It comes with complimentary travel medical insurance, and perhaps my favourite perk – 4 free private airport lounge passes each year, through Mastercard Airport Experiences.
When you travel as often as I do, that's a nice benefit to have. Here's a quick glance at what the BMO World Elite has to offer, or you can check out my full review here:
Features of the BMO World Elite Mastercard:
Welcome offer of 35,000 BMO Rewards Points
Annual fee waived for the first year ($150 value)
Earn 3 BMO Reward points for every dollar spent on travel, dining, and entertainment
Earn 2 points on all other purchases
Complimentary Travel Medical Insurance coverage
Membership to Mastercard Airport Experiences by Loungekey, including 4 annual passes
Purchase Protection and Extended Warranty on most items purchased with the card
Optional roadside assistance
19.99% interest rate on purchases / 22.99% on cash advances
$80,000 / $150,000 (household) annual income required
New York City – Something for Everyone
As I discovered during my trip, New York really does seem to have it all. From iconic landmarks and major league sports, to the best in arts & culture, it's all there in New York City.
But it can also be an expensive place to visit. Thankfully, with the right planning, there are ways to make it affordable. In our case, using credit card rewards towards big ticket items, like flights and hotels, helped a lot. Taking advantage of sites like 1iota, Broadway Direct, and CityPASS also made a difference. Of course, don't forget all of the free things there are to do. With the right approach, you'll have no shortage of fun on your next visit to The Big Apple.