How to Make Money on TikTok in Canada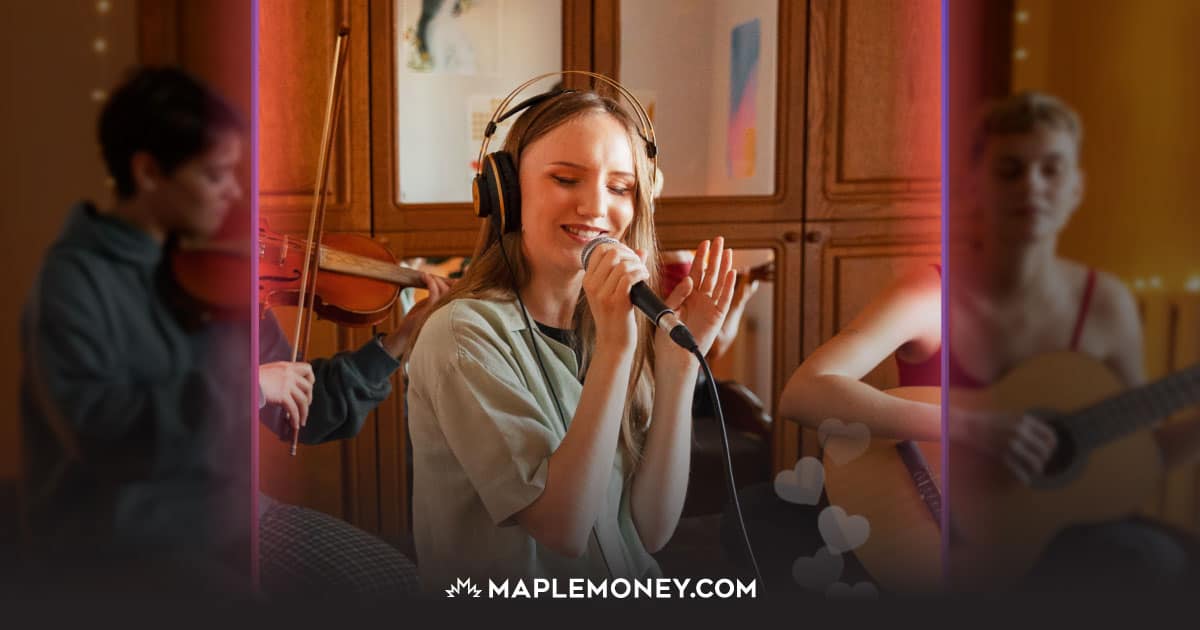 In just a few years, TikTok has become an incredibly popular social media platform. But beyond all of the viral dance and cute animal videos, it's provided money-making opportunities to many social media-savvy Canadians.
In just a few years, TikTok has gained immense popularity as a social media platform. But apart from the well-known viral dance and adorable animal videos, it has opened up new ways for social media-savvy Canadians to make money online.
As a creative platform with a massive user base, TikTok lets content creators showcase their talent, build a following, and grow their income. From promoting your own business to collaborating with brands, there are numerous ways to generate revenue on the app.
What Is TikTok?
TikTok is a popular social media platform where users create and share short, engaging videos that often feature music, dancing, and various challenges. With its user-friendly interface and wide range of content, TikTok has become a go-to app for millions of people worldwide.
How Does TikTok Work?
As a TikTok user, you can explore an endless stream of videos on your "For You" page. The personalized feed offers content tailored to your interests, making it easy to discover new creators and trends. Users can interact with the content by liking, commenting, and sharing TikTok videos.
TikTok makes creating your own videos simple and fun. It offers an extensive library of music, filters, and effects, allowing you to craft unique videos that stand out. Whether you're showcasing your dance moves, sharing a funny skit, or providing helpful tips, there's something for everyone on TikTok.
Now, let's take a closer look at some ways to make money with the video content you create.
Related Post: 50+ Ways to Make Money Online
6 Ways to Make Money on TikTok
Here are some of the many ways Canadian creators can make money on TikTok.
1. Promote Your Products
You don't need millions of followers to promote your own business or products on TikTok. By setting your TikTok account up to showcase your personal brand, you can use your platform to market your online store, courses, or coaching services.
2. Sponsorships
If you've built an established following on TikTok, you may be approached by various companies or brands to create one or more TikTok videos promoting their products or services. You can also look for sponsorship opportunities with brands you believe in. Monetization can come in different forms, including sponsored content, brand deals, or sponsored posts.
3. Create Live Stream Content
TikTok allows creators to live stream and interact with their followers in real time. While live streaming, you can collect tips from your audience through virtual gifts. These gifts can be converted to real-life cash, making it a fun and engaging way to earn some income on the platform.
4. Consulting
If you have expertise in the field of social media or TikTok, consider offering consulting services as a way to earn money. Provide marketing consulting, freelance writing, or TikTok strategy to clients who are trying to build their online presence.
5. Flip Accounts
Many TikTok creators have made money by flipping TikTok accounts. If you are skilled at growing and managing accounts, you can sell established accounts to people who would rather pay for an audience without putting in the work of building one from scratch. To generate the most interest, focus on building accounts in high-demand niches. It helps if you have experience or expertise in the subject matter.
2. Affiliate Marketing
Affiliate marketing is a business model where businesses reward individuals or other businesses for driving traffic or sales to their products or services through different marketing efforts.
As a TikTok creator, you may be eligible to sign up for some affiliate marketing programs with as few as 1,000 followers. You'll promote products and services that you have experience using and earn a commission every time someone purchases from your affiliate link. The more people who use your link, the more money you can make. Promoting affiliate products on your TikTok can be an excellent way to earn commission income.
Related Post: How to Make Money As a Teenager
Is the TikTok Creator Fund Available in Canada?
The Creator Fund is a pool of money set aside by TikTok to reward creators for making high-quality, engaging videos. Unfortunately, the TikTok Creator Fund is not available to Canadian creators. The program is currently open to creators in the U.S., UK, Germany, Italy, France, and Spain only. There have been rumours that the Creator Fund is coming to Canada, but no date has been announced as of yet.
If you're a Canadian TikToker with a passion for content creation and a growing audience, continue to focus on the monetization opportunities offered in this article while you wait for the Creator Fund to be introduced in Canada.
Final Thoughts
As a content creator on TikTok in Canada, turning your passion into a side hustle or full-time job is possible with persistence and creativity.
To improve your chances of success, focus on establishing a unique brand and connecting with potential customers. Look for opportunities to collaborate, post regular content, and engage with your audience.
Remember, you can build a profitable TikTok business while maintaining a friendly, authentic tone that resonates with your audience. Stay true to yourself and showcase your unique talent or skillset, and you'll be well on your way to making money on TikTok.
FAQs
How can you monetize TikTok without many followers?
You don't need millions of followers to monetize your TikTok account. One effective way to earn money without having a massive following is by promoting your own business. By creatively showcasing your products and services, you can attract potential customers and generate sales. Additionally, collaborating with other creators or participating in affiliate marketing programs can also help you expand your audience and start earning money.
Can you profit from TikTok livecasts?
Yes, you can profit from TikTok livecasts through the live gifting feature. This feature allows your followers to express their gratitude in real time by sending virtual gifts during your live broadcasts. As a creator, you can convert these virtual gifts into TikTok's digital currency, Diamonds, and then cash them out for real money.
What's the best way earn on TikTok?
To start earning on TikTok, you should focus on creating high-quality, engaging content that resonates with your target audience. Building a loyal following and cultivating strong engagement is vital for attracting brand partners and generating income through sponsored content, live gifts, and other monetization options. Remember that the key to success on TikTok is consistency, so continue to hone your skills and publish new videos to maximize your earning potential.