Neo Financial Review: High-Interest Savings and Credit Card Rewards with a Twist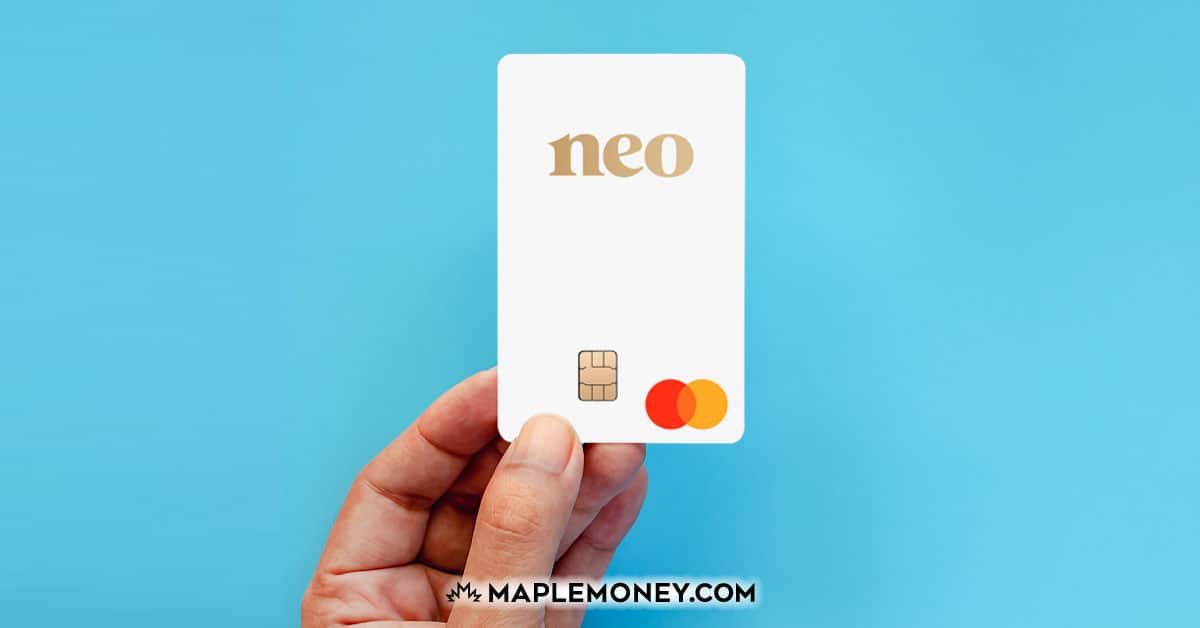 Neo Financial is the newest player on the Canadian online banking scene. The company's founders are the same people who brought you Skip The Dishes, the Winnipeg-based online restaurant food delivery company that enables users to order food from their iPhone or Android device.
According to Neo Financial's website, the company's mission is to "reimagine spending, savings, and rewards by using technology to simplify finances, create rewarding experiences, and build a community for all Canadians."
It's an ambitious goal and one that's worth investigating in this review of Neo Financial. In this review I'll take a closer look at Neo's two main products – a rewards credit card with a twist and an online savings account – to see how they stack up
Introducing Neo Financial
Neo Financial began in 2019, a startup effort by Skip The Dishes co-founders Andrew Chau and Jeff Adamson, along with Kris Read. They've partnered with two Canadian financial institutions – Concentra Bank and ATB Financial – to bring Canadians two primary products, a high-interest savings account and a no-fee rewards Mastercard.
When you deposit funds into your Neo Financial account, balances are managed by Concentra Bank and protected by Canada Deposit Insurance Corporation (CDIC), of which Concentra is a member institution.
Neo Financial branded credit cards are issued by ATB Financial through their relationship with Mastercard.
Neo Savings Review
Neo Savings is a high-interest online bank account. The question is, is it a chequing or savings account? The way Neo Financial looks at things, you only need one account, not both. And this is how they are differentiating themselves from the Big Banks.
According to Neo, most banks push the idea of a chequing account for day-to-day spending, and savings account for your rainy-day fund while paying almost no interest on either one. On the other hand, Neo Savings is a no-fee account that pays a standard high-interest rate (currently 1.30%) on every dollar you save, along with the convenience of direct deposit and free, unlimited Interac e-Transfers. What bank gives you all of that in one account?
Neo Savings Features
No fees, unlimited monthly transactions
High standard interest rate (1.3%)
Direct deposit
Free Interac e-Transfers
Pay bills via the Neo Financial app
Open account within minutes
Deposits protected by CDIC (up to $100,000)
Is Neo Savings Safe?
The short answer is that yes, Neo Financial is safe. CDIC backs up deposits, and their mobile app uses similar levels of security and encryption that you'll find with most online banks. If you're comfortable using your primary bank's online banking, you should be comfortable with Neo Financial.
Summary of Neo Savings
My thoughts on Neo Savings? If you're a fan of banking online and are looking to simplify your day-to-day transactions, Neo Savings has plenty to offer. Any of Canada's big banks can't match their combination of no fees and a high savings interest rate.
The closest competition would be EQ Bank, which offers many of the same features (no fees, free Interac e-Transfers) and a slightly lower interest rate (1.25% vs. 1.30%). However, EQ has an edge regarding additional products – RRSP, TFSA, and US Dollar, to name a few.
Neo Financial Credit Card Review
In addition to Neo Savings, Neo Financial puts a unique twist on the rewards credit card. In this instance, it's a Mastercard product, which displays the Neo brand but is backed by ATB Financial. This Alberta-based financial institution boasts over 700,000 customers, more than $51B in assets, $32B in deposits.
Neo Mastercard Features:
Three rewards tiers (the first tier has no annual fee)
No over limit or inactivity fees
Variable cashback rewards at Neo partner retailers
Purchase interest rate (19.99%-24.99%)
Cash Advance interest rate (21.99%-26.99%)
How Neo Credit Card Rewards Work
Neo Financial has partnered with hundreds of gas and grocery stores, restaurants, and coffee shops to bring you generous cashback loyalty rewards when you shop. Unlike most cashback rewards cards, which pay less than 2% cashback, you can earn up to 6% with the Neo Mastercard.
There is a catch. If you don't live near partner stores, or the stores aren't places you would normally shop, you may not have an opportunity to earn cashback. In fact, at the Essential Rewards level, there is no cashback offered at non-partner stores, so if Neo partners aren't an option, you're out of luck.
Neo Rewards Breakdown
The Neo credit card comes with three rewards tiers: Essential, Plus, and Max. Let's take a look at how each level works:
Essential Rewards:
No monthly or annual fee
Average 4% cashback when shopping at Neo partner stores
Recommended for monthly spending under $750
Plus Rewards:
$4.99/month
Average 5% cashback at Neo partner stores
.50% cashback on all other spending
Recommended if monthly spending is over $750
Max Rewards:
$9.99/month
Average 6% cashback at Neo partner stores
1.0% cashback on all other spending
Recommended if monthly spending is over $1000
Discovering Rewards with the Neo App
If you shop at partner stores, finding cash rewards is easy. You can use the Neo app to locate offers in your area. Head to the store to shop with your Neo card, and your cashback is credited to your Neo credit card. You can save up your rewards or cash them out at any time as a credit.
Is Neo a Real Credit Card?
Unlike some digital banks, like Koho or Stack, which offer prepaid credit cards, the Neo card is an actual credit card. You'll have a credit limit and the option of making a minimum monthly payment or paying the balance off in full each month. Of course, your best bet is to always pay it off in full.
Neo Financial Customer Support
If you run into problems or have questions of a general nature, Neo's support team is only a phone call away. You can speak to a representative seven days per week, between 8 AM and 8 PM Mountain Standard Time. Their toll-free number is 1(855) 636-2265. If your question isn't urgent, you can also email the support team at [email protected].
Neo Financial Pros and Cons
Neo Financial is a relative newcomer to the financial services industry, and their product offering is simple; a high-interest savings account and a rewards credit card. But even with two products, there's a lot to like about Neo Financial. To summarize the good, the bad, and the ugly, here's my list of pros and cons:
Pros
No monthly fees with Neo Savings
The highest standard savings rate in the market (1.3%)
Unlimited transactions
Payroll direct deposit
Pay bills for free
Free Interac e-Transfers
CDIC protection
Cons
Limited product offering (including no TFSA savings option)
mobile cheque deposit not available
Best cashback rewards are limited to Neo partners
No cheque writing privileges (not a true chequing account)
Not available across Canada
Final Thoughts on Neo Financial
Neo Financial positions itself as an alternative to the traditional bank. However, their stiffest competition is bound to be Canada's leading digital banks, like EQ and Tangerine. You could also add Simplii Financial into the mix. If you're looking for a full suite of banking products, including investment accounts like TFSAs and RRSPs, you're better off with those other banks because they have more to offer, plain and simple.
However, if you just want a basic banking setup (no-fee account with a rewards credit card), Neo Financial is undoubtedly worth considering. They offer much of the same tech other financial services brands are using, and they have a significant savings interest rate when many others have cut rates close to zero. My only caveat is that before you sign up, make sure you'll be able to take full advantage of the Neo credit card rewards. If not, then the value of their offering drops off substantially.