Surviving a layoff – 9 tips to make it through this tough time
Are you trying desperately to survive a layoff? According to CBC News, Canada's jobless rate has hit a 9-month high. More and more Canadian's are faced with layoffs and job loss.
Are you one of these people?
With a bit of positivity, a plan, and creative thinking, you can work through this difficult, life-changing time.
Surviving a layoff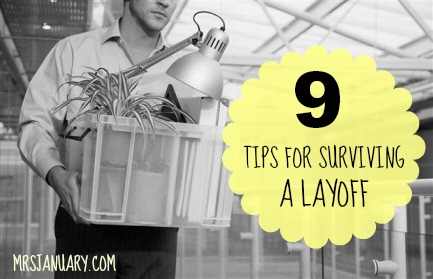 1. Determine & file for unemployment benefits
The very first thing you want to do when you are left unemployed is to figure out whether or not you are entitled to employment insurance (not everyone is approved to receive this). If you are, file right away. Most people receive their first payment within one month of filing, but it may take a bit longer for others.
2. Start the process of looking for a new job
Assess your skills, work on your resume (here are some great tips for creating a resume), and reach out to your professional and personal network for leads and support. Sites like Workopolis and Monster.ca are great resources for job hunting.
One of the best tips I can give to those of you applying for a job and not having much success with call-backs is to always follow up after an interview. Send a thank-you email or phone call the day after your interview and a follow-up email or phone call one week after your interview, if you've not yet received a response. The more you persist, the more obvious it is that you want the job. This makes it more likely that you will be considered for the position (I have done this for numerous jobs in the past and ended up getting every single one of them!).
3. Create a new budget
Review all of your expenses, income (if any), and savings. Determine what your needs and wants are – this is not a time to cut yourself some slack. You need to be ruthless about your spending habits now that you are no longer employed and bringing in an income (or only bringing in a small one). It's time to live simply and establish more frugal habits.
4. Eliminate unnecessary expenses & reduce necessary ones
This is an opportunity for you to cut any unneeded expenses such as eating out, your daily coffee run, the fancy pedicures, and new electronics. Completely cut whatever expenses are wants and not needs.
Look for ways to reduce your utilities and household expenditures. Turn the lights off when you are not in the room, keep the temperature set at a reasonable temperature, switch to a basic cable plan (or cut out cable altogether!), get rid of your home phone if you have a cell phone – all of these little things can add up to big savings.
5. Shop with coupons
If you have not been using coupons lately, now is a good time to start. You can save quite a bit of money using coupons when you shop! Dedicate a bit of your time to researching and planning shopping trips based on the local sale prices and you will have no problem-saving money on groceries.
6. Sell your stuff
Get rid of anything that you no longer need. Look around your house – do you have clothes, household items, toys or furniture that you just don't need anymore? Selling them on Craigslist and Kijiji can help you clear out the clutter and earn some fast cash.
7. Don't take on more debt
It can be tempting to tap into the available credit that you may have so that you can maintain the lifestyle that you were living in pre-layoff. Don't do it! It's a band-aid solution that just doesn't work. This most definitely will put even more strain and stress on you in the long run.
8. Deal with your creditors
If you have debts to pay and not enough money coming in to cover those debts, contact each creditor and make them aware of your situation. Don't run away. Often, they will be sympathetic to your situation and come up with a solution to reduce your monthly payment(s).
9. Stay positive
Continue your job search and try to embrace your new lifestyle the best that you can. Being unemployed and unsure about how you are going to pay your bills and put food on the table can be a scary situation, but the worst thing you can do is panic.
It is possible to survive a layoff. You just need to stay calm, focused, and realize that "this too, shall pass". As my grandmother used to say: keep your chin up – things will get better!
I know two people that were recently laid off from their jobs and they are both now happy and working again. They told me that they were actually somewhat glad that they were laid off, as it taught them how to be more frugal and manage their finances better.
Imagine that – a layoff ends up being a good thing. Maybe it will be a good thing for you, too.