17 Best Apps to Save Money in Canada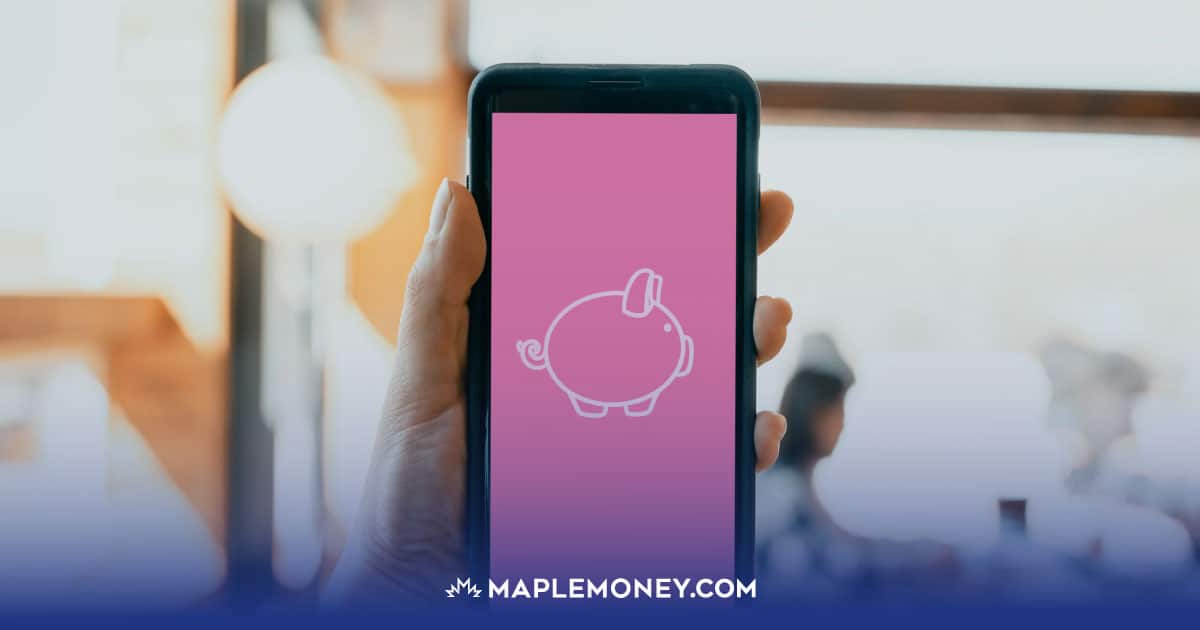 Saving money can be challenging, especially with the current cost of living. However, Canadians are discovering the benefits of using money-saving apps to keep their finances on track.
For this article, I've compiled a list of 17 money-saving apps. It's not exhaustive, but it includes many of the best money apps in Canada. Looking to keep track of your bank accounts, earn more money, save on grocery purchases, open an online savings account, create custom budgets, or get a free credit score? If so, these apps have you covered.
Best Money Savings Apps in Canada
There are plenty of mobile apps in Canada that can help you keep track of your finances, invest, create budgets, and save money on everything from groceries to online shopping. Here are 17 of the best money-saving apps we could find.
Best Money Savings Apps for Investing
Investing apps can help you manage your personal finances, track your investments and savings, and achieve your financial goals. Here are some of the best ones in Canada.
Wealthsimple Invest
Wealthsimple is a user-friendly robo-advisor app that makes investing easy. You can open an account within minutes and invest in a diversified portfolio of low-cost exchange-traded funds (ETFs). But while you can invest on your own in the app, personalized advice from a human advisor is available if and when you need it.
For the best long-term results, automate your savings by setting up recurring deposits into your Wealthsimple account.
Wealthsimple also has an app that allows you to buy and sell stocks and ETFs with no commission fees. It's called Wealthsimple Trade, and it's perfect for beginner investors looking for an easy and affordable way to trade stocks. Check out our Wealthsimple Invest review for full details.
TD Easy Trade
TD Easy Trade is an investing app from Canada's largest online broker, TD Direct Investing. But where TD Direct Investing was built to handle the most sophisticated trading scenarios, TD Easy Trade is tailor-made for beginners.
The platform's biggest selling feature may be the 50 free stock trades every year. You also get unlimited, free TD ETFs, and there are no account fees.
TD Easy Trade also offers educational resources to help you build your knowledge about investing and improve your financial management skills.
EQ Bank
EQ Bank is an online-only bank that offers free, unlimited banking and a high-interest savings account that yields up to 3.00% interest as of this writing. If you're looking for an attractive return on your short-term savings, EQ Bank should be near the top of your list.
EQ has a mobile app that can be downloaded for an iOS or Android device. You can also purchase GICs with EQ Bank and hold several types of accounts, including non-registered, RRSP, TFSA, FHSA, and US Dollar accounts. Learn more in our EQ Bank review.
Moka
Moka is an investing app that rounds up purchases to the nearest dollar. The difference is then invested in a diversified ETF portfolio. By connecting your bank account to Moka, you can automate your savings, choose a personalized investment, and keep track of your portfolio.
You can also set multiple savings goals and track your progress. One potential drawback is the account fee. Moka charges $4.99 monthly for a basic account, so the fees can add up if you're not investing large sums. Moka is available for download from The App Store and Google Play.
Best Money-Saving Apps for Managing Your Finances
Net worth and budgeting apps make it easy to stay on top of your finances. There are several great budgeting apps in Canada. Here are a few of the top ones.
Mint
Mint is a longstanding budgeting app that connects to your bank account, credit card, and other financial accounts to provide a comprehensive view of your finances. With Mint, you can set up savings goals, create and track budgets, and analyze your spending patterns.
And Mint will send you alerts about unusual charges and upcoming bills. The best part about Mint is that it's completely free. Learn more in our Mint review.
You Need A Budget (YNAB)
If you're looking for a more in-depth budgeting app, YNAB is the way to go. YNAB, which is short for You Need A Budget, will help you build a custom budget based on your income and expenses and offers helpful features like goal-tracking and reporting insights into your spending habits.
YNAB follows a zero-based budgeting method, which requires you to assign a job to every dollar. YNAB offers a free 34-day trial, after which it costs $14.99 USD monthly or $99 USD per year.
Learn more in our YNAB review.
Borrowell
Borrowell is a free app that gives you access to your credit score and report. When you sign up with Borrowell, they will send you an updated credit score by email every week. You'll also have an opportunity to view your Equifax credit report.
It's been found that checking your credit regularly helps you improve your credit score. You can also be alerted to any errors or fraudulent activity as soon as it occurs.
In addition to credit score reporting, Borrowell will provide you with personalized recommendations for credit cards and loans. There is no obligation to sign up, and I don't recommend using this part of Borrowell's service offering. You can find out more about Borrowell in our full review.
Wealthica
Wealthica is a net worth tracker app that lets you keep track of all your financial accounts in one place. It's similar to Empower in the US (formerly Personal Capital). Most Canadians deal with more than one financial institution, and some deal with several. Wealthica saves you from having to log in to multiple websites to view your financial information.
Wealthica has a free version that limits the number of accounts you can synchronize. An Unlimited Connect plan is $5/month or $50/year, and Premium Unlimited is $150/year.
Learn more in our Wealthica review.
Best Money-Saving Apps for Discounts and Cash Back
The following money-saving apps allow you to earn cash back rewards and other discounts when you shop online.
KOHO
KOHO is a reloadable prepaid Mastercard and app that allows you to earn cash back on all your debit purchases. You can choose from four different plans. The free plan pays you 1% cash back on groceries and transportation and 0.5% interest on your deposit balance.
The Essential plan is $4 and includes 1% cash back on groceries, transportation, food, and drink purchases. You also get 4.5% interest on the first $500 and 2% interest on deposit balances above $500. There are two more plans – Extra, and Everything – that add more features. They are priced at $9 and $19/month respectively.
In addition to cash back, Koho allows you to set financial goals, save on autopilot, and pay fewer banking fees. Learn more in our KOHO review.
Ampli
Ampli is a cash back app powered by RBC. Ampli partners with Canadian retailers to offer you cash back opportunities on your purchases. By linking your bank account, you can earn cash back automatically when you shop at participating retail partners. The app also provides personalized offers and promotions to help you maximize your savings.
For more information, check out our Ampli review.
Swagbucks
Swagbucks is a popular rewards site and app that allows you to earn cash and gift cards by completing various online activities, such as watching videos, taking surveys, and shopping at your favourite retailers.
You won't get rich with Swagbucks, but you may be able to save enough money to buy a few Tim's coffees every month or cover a streaming subscription or two. Find out more in our Swagbucks review.
Rakuten
Rakuten, formerly known as Ebates, is a well-known cash back platform and app that partners over 750 retailers in Canada. You can earn cash back on your online purchases simply by shopping at your favourite stores through the Rakuten app or website.
They often offer special promotions and higher cash back rates during holiday seasons, providing additional savings opportunities. Rakuten retail partners include names like Sephora, Old Navy, Sport Check, Canadian Tire, Walmart, Michael's, Samsung, Joe Fresh, and more.
Drop
Drop is a free cash back app that allows you to earn points from your everyday purchases. By linking your credit and debit cards to the app, you can automatically earn rewards when you shop at participating retailers.
You can then redeem your points for gift cards from popular stores, such as Amazon, Best Buy, and Home Depot. Drop also offers personalized offers and bonus point events to help you earn even more.
Learn more in our Drop review.
Best Money-Saving Apps to Save on Groceries
Shopping for groceries is more expensive than ever, but grocery cash back apps can make things a bit easier to manage. Here are some of the best grocery apps available.
Caddle
Caddle is a money-saving app that helps you earn cash back on groceries and other household items. Simply browse the app for cash back offers, purchase the specified products at any grocery store, and then snap and upload a photo of your receipt to earn cash back.
You can also earn cash back for short surveys in the app. Caddle often features popular grocery store items, so be sure to keep an eye out for new offers each week.
Checkout 51
Checkout 51 is another cash back app designed to help you save on your grocery shopping bill. Like Caddle, you can find offers on a wide range of popular grocery store items, purchase them at your preferred grocery store, and then upload your receipt to earn cash back. With new weekly offers, Checkout 51 makes it easy to save money on your favourite products.
Great Canadian Rebates
Great Canadian Rebates offers cash back when you shop online at grocery stores and other retailers. To use Great Canadian Rebates, sign up, shop at participating retailers through the website, and get paid cash back. You'll find additional deals, coupons, and promotions for even more savings on the GCR website.
TopCashBack
TopCashBack is yet another cash back site that gives you cash back when you shop online. Like Great Canadian Rebates, you shop through their website and earn cashback on your purchases. TopCashBack also offers deals and coupons for additional savings.
Final Thoughts
The best money-saving apps can help you take control of your financial situation and make better decisions on how to spend money. Many of the apps I covered above can also help you increase your savings balance and reach your financial goals.
Remember, a well-rounded approach to managing your finances is key. By combining apps focused on investing, saving, and money management, you're setting yourself up for success.
FAQs
Which apps are best for student budgeting and savings?
Mint is a great app for students looking to budget and save money. Not only is it free, but it lets you view all your financial accounts in one place, track spending automatically, and set saving goals. KOHO is another option to consider, offering a free reloadable prepaid card and generous cash back.
What money-saving apps help you invest?
Robo-advisor apps like Wealthsimple are designed specifically to automate your investments. And with its Roundup feature, your spare change gets saved or invested automatically. Wealthsimple Save offers one of the best savings rates in the country.
Is there a savings app specifically for Canadian users?
Many of the apps on our list are only available to Canadian users, though some of the apps, like Rakuten and Mint, have separate US versions.